We had fun following the Genesee Brewery beer tanks as they traveled along the Erie Canal, passing through our canal town stores in New York!
Teammates from our Main Office watched the tanks leave lock 8 in Rotterdam to kick off our tracking, and then Amsterdam, Palatine Bridge, Little Falls, North Utica, Rome and Clay store teammates visited their local lock to
#toastthetanks
as they headed towards their Rochester destination.
Folks in canal-side communities from Albany to Rochester have flocked to their nearby lock to toast the massive tanks, snapping photos with Genny brew in hand and celebrating one of New York State's most historic transportation systems. Drone users joined in on the action too: check out
this cool video
of the tanks floating through Fort Hunter, shared with us by Doug J. who shops at our Amsterdam store! After a long journey across the state traveling at about 5 miles per hour, the barges will finally reach their permanent home at the Genesee Brewery this week. It's been an exciting journey to follow! Cheers to our friends at Genesee, New York's oldest brewery, and the Erie Canal, which first opened almost 200 years ago in 1825! To take a look back at some of the action, follow us on Instagram @pricechopper.
Although winter has been reluctant to loosen its grip, spring is finally in the air, and it's time to get our homes ready to greet it. Spring cleaning was a time-honored tradition when I was growing up. I remember my mother throwing open the windows to "air out the house" and let the fresh smell of spring in. She would then go about cleaning the house from top to bottom.
Spring cleaning is still a great way to freshen up and de-clutter. It's also the perfect time to update your living space, and give it a fresh, new look for the season. Not sure where to start? Start off by ensuring you and your family are safe. Test smoke alarms and carbon monoxide detectors if you didn't do it last month when the time changed, and replace batteries if necessary. Next, spring into action with easy cleaning and no or minimal cost decorating tips that will allow you to enjoy your home and the warm weather that is on the way.
Wash walls and baseboards (start from the top and work your way down), windows, screens, and bedding. Wash, dry clean or vacuum curtains/window treatments as recommended by the manufacturer.
Steam clean carpets or send area rugs out.
Clean out the pantry by checking best if used by (or before) dates on non-perishable foods like spices, canned goods, grains and pastas, etc., and toss anything past its prime. Throw away any bulging, leaking or rusted cans, as these are an indication of spoilage and present a food safety hazard! Repeat the process in your refrigerator with perishable foods and throw away food that is past its use-by or best if used by date. Once everything is sorted through, group like items together.
Declutter and organize closets and drawers. Make a pile of clothes and other accessories and donate items in good condition and discard the rest. Don't hold onto things you haven't worn in the last year thinking you might again. Trust me, you won't.
Celebrate spring by bringing the outdoors in with some fresh greenery and/or flowers into your living space.
Brighten up any room with a fresh coat of paint or even just by adding a pop of color.
Transform a room's look and feel by rearranging furniture or simply update with new decorative pillows in cotton and linen fabrics.
Go seasonal with your bedding! Trade out the heavier comforters and blankets for lighter weight fabrics and softer colors.
Bring the smell of freshness indoors with a citrus or floral-scented candle.
Now that your home sparkles and shines, take a deep breath and enjoy! —
Author: Maureen Rowan Murphy, Manager Consumer Trends, Nutrition and Lifestyles
Guest blog written by Ben Taylor of Merle Maple Farm
As the weather begins to warm up, it's time for maple season! We at Merle Maple Farm, based in Attica New York, are proud to produce high-quality and consistent maple syrup for our local partners at Price Chopper and Market 32. Their commitment to providing local products for customers is beneficial for local economies and strengthens the "Tree to Table" connection that maple farming thrives off of.
Merle Maple Farm is owned and operated by the Merle Family, which is currently in its 6
th
generation of family ownership. We have over 17,000 taps in the woods which collectively produce over 350,000 gallons of sap per season. We boil this sap down to the sweet product we all know as maple syrup: between 6,000 and 9,000 gallons per year! Maple syrup is all-natural, with no additives and no modification; just pure nature-derived goodness. The Merle family produces a wide variety of maple products, from maple syrup to BBQ sauce, and cotton candy to sugar candy. We enjoy chatting with folks about all things maple, showing people how we make our maple products, and being engaged in the local community. We hope that you enjoy our maple syrup as much as we enjoy producing it. Thanks for reading!
Find out more about Merle Maple Farm by visiting their
website
, and find out more about our local maple producers on our
maple page
!
We had a great day today visiting the team at Mapleland Farms! We hung out at the sugar house with Mary Jeanne & the Mapleland Farms family to chat with our Facebook followers about all things maple! With Mary Jeanne's help, we were able to answer many of your maple questions. Below are some of the most popular questions & answers from our local experts!
Does the color of the syrup relate to the flavor of the syrup?
MJ: The darker the syrup the stronger the flavor. The color is determined by the sugar content of the sap when it comes out of the trees. However, all maple syrup is 67% sugar!
Has the weather this year been affecting your productivity?
MJ: We count on cold nights & warm days to make the sap run. This year, there's been cold nights & cold days, or warm nights & warm days, so the sap production is down slightly.
How much sap does it take to make one pint of maple syrup?
MJ: It takes about 40-50 pints of sap for one pint of pure maple syrup.
What is the difference between the grades of syrup?
MJ: There are 4 grades of pure maple syrup: golden, amber, dark, and very dark. The darker the syrup the stronger the flavor. All 4 grades have the same sugar content–67% sugar!
Which grade of pure maple syrup is best for cooking?
MJ: We recommend dark or very dark. The darker the syrup, the stronger the maple flavor.
Can you substitute pure maple syrup for sugar in baking?
MJ: Yes! When baking, substitute pure maple syrup with sugar 1:1 and reduce the amount of liquid slightly.
Does where the maple syrup comes from (NY, VT, Canada) affect the flavor?
MJ: Definitely! Just like wine regions, maple also has different flavor regions.
How should maple syrup be stored?
MJ: If unopened, pure maple syrup will keep for 2 years. Once opened, it should be kept in the refrigerator. Pure maple syrup can be put in the freezer; however, it will not actually freeze.
Do you tap the same trees every year?
MJ: We tap every tree, every year! Special thanks to our friends at Mapleland Farms. Look for their award-winning pure maple syrup at 3 of our locations: Fort Edward Market 32, Wilton Market 32, & Market Bistro in Latham. Learn more about them & shop all their products online.
Click here.
Written by Tyler Blance, Marketing Program Coordinator – Local
It's maple season in the Northeast and we're celebrating at Price Chopper and Market 32!
We're proud to team up with a variety of different maple farmers and producers across the 6 Northeast States we operate in! Our maple friends supply different stores with a range of items like pure maple syrup, maple cream, maple candies, and even maple cotton candy! Our Price Chopper brand of maple syrup is produced in Vermont from the sap of Vermont maple farms! Maple is a delicious seasonal flavor, but did you know that it's also an important agriculture product of our region? The Northeast is home to the ideal weather climate for turning maple tree sap into pure maple sugar (syrup): Vermont alone produces over 5% of the world's maple syrup supply!
There are a lot of different maple sugar farms in our region, ranging from small hobby farms who tap trees for personal consumption, all the way to folks who tap 17,000 trees, like our friends at
Mapleland Farms
in Salem NY !  Many of these farms offer sugar house visits and seasonal tours that are open to the public, and multiple Northeast state associations provide resources on visiting these local maple farms. You can see the process of maple production and become a Maple Master! Check out the links below to see what resources your state has to offer!
Visit a New York Maple Farm
Visit a Vermont Maple Farm
Visit a New Hampshire Maple Farm
Visit a Pennsylvania Maple Farm
Visit a Connecticut Maple Farm
Visit a Massachusetts Maple Farm
And if you aren't able to make it out to your nearby farm this year, our Vermont pals at Coombs Family Farms offer
this pretty cool video
that tells the story of their maple farm. For more information on our Northeast maple producers, visit our home.grown.
maple page
. May your maple season be extra sweet this year!
Written by Ellie Wilson, MS, RDN
March is #NationalNutritionMonth, an exciting time to get energized about delicious foods that power great health. One of my favorite ways to do that is to highlight fresh produce and products that connect all the dots – history, farm-to-table, flavor, and nutrient power that is easy to enjoy in many ways. This led me to our friends at Welch's, an iconic company bringing the unique Concord grape to your table with wonderful Welch's 100% Grape Juice. The Concord grape was developed in the mid-19
th
century by farmer Ephraim Wales Bull. He worked to develop a grape that could thrive in the harsh climate and sandy soil of the Northeast. He was successful in 1849, and named the new North American native grape for its birthplace of Concord, Massachusetts. Fast forward to present day, and the descendants of that original vine are grown in very specific, cooler microclimates, including the "grape belt" in Western New York, on the southeastern shore of Lake Erie. Over 250 New York farm families, a large part of the nearly 1,000 family farmers that make up the cooperative that owns Welch's, carefully tend the vines and focus on the harvest that is concentrated into a few short weeks each fall.
Welch's deep, rich 100% grape juice is full of the Concord grape's purple power and delivers beneficial plant nutrients called polyphenols. In fact, 100% grape juice provides many of the same polyphenols and heart-health benefits as red wine. This juice is wonderful as a drink on its own and as a versatile ingredient for recipes your whole family will enjoy. Check these two heart-healthy recipes out and surprise your family and friends with great dishes you will keep on your go-to list.
Our Signature salmon fillets will serve up beautifully in this Spiced Salmon Fillet with Welch's 100% Grape Juice – support heart health and get one of your two recommended seafood servings for the week!
Click for recipe
.
Easy and quick, lean pork tenderloin comes to life with these Sweet and Spicy BBQ pork and bok choy skewers.
Click for recipe.
Bonus!
Print the coupon
, explore and enjoy the goodness of the grape with Welch's! Written by Jane Golub, Director In-Store Marketing Programs February 19, 2017
HEX PERFORMANCE ADVANCED LAUNDRY DETERGENT
2017 is the year you reach those big health goals.  Hex is here to make sure your laundry room is part of that! Wait, laundry room?  Yup, you read it right!  Your bright new workout clothes are going to become sweaty piles of laundry and that jug of blue detergent isn't going to get them clean.  Why not?  Because those detergents were built for yesterday's fabrics.
What's different about this new laundry detergent?
Hex started with tough-to-clean synthetic fabrics (like your workout clothes).  They found that since they clean those better than the legacy brands, everything else is easy! Learn more at 
hexperformance.com/transparency.
With HEX, one detergent works for everything and you get a true clean on the first wash. They know you have something that stinks, so pick up HEX Performance today in the Laundry aisle!  Available in Single Dose or Liquid and Free + Clear or Fresh Clean Scent. JNG/
Price Chopper and Market 32 have everything you need to satisfy all your hungry fans! Gear up for the big game with savings across the store on pizza, ribs, snacks, adult beverages and more! Snap up these deals and view our weekly flyer for more tasty savings!
View Weekly Flyer
2 Corner to Corner Cheese Pizzas & 2 Lbs. of Wings, just $22.99!

Price good thru Sunday 2/5

Lloyd's Babyback Ribs, just $10.99 w/ card

On sale thru Saturday 2/4

Heinz Easy Squeeze Ketchup, just 2 for $5 w/ card

On sale thru Saturday 2/4

Lay's Family Size Chips, just $1.99 ea. when you buy 3 or more w/ card

On sale thru Saturday 2/4

Tyson Any'tizers, Buy One Get One FREE w/ card

On sale thru Saturday 2/4

Your favorite sodas & adult beverages are on sale too!
Written by Maureen Murphy & Sarah Palmer
Hosting a cocktail party!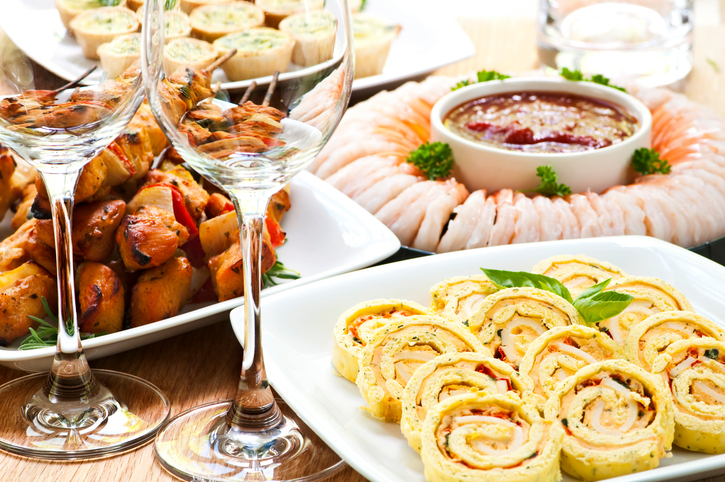 With New Year's Eve approaching this weekend, you may be hosting your final celebration of 2016!  We have some great tips for hosting a simple cocktail party! A cocktail party is a convenient way to entertain guests ranging from neighbors to business associates. The duration of a cocktail party is usually 2-3 hours, and foods usually consist of simple hors d'oeuvres and other finger foods, allowing guests to graze as they mingle.
Offer a varied menu making sure to include seafood, meat selections, finger food, canapés, hot and cold dishes
Plan on 8 (if being passed) and 10 (if on a buffet) hors d'oeuvres per person
When serving cheeses:

Choose a simple cracker without excess salt or flavors to enhance the flavor of the cheeses(s)
Choose crusty breads for mild cheeses or a heavy fruit or nut bread with an aged or more complex selection when serving bread
Serve cheese with your favorite fresh fruit:

Grapes can be served with almost any cheese
Pears go great with blue cheese, gorgonzola or aged Gouda.
Fresh berries are perfect when eaten with a soft ripened cheese such as brie or camembert
Fresh or dried figs are particularly nice with Spanish Manchego or Reggiano Parmesan

Use hollowed out peppers as serving containers for dips
Stock the bar with an assortment of glass styles to cover the type of drinks you plan to serve
Provide wine charms or even different colored ribbons for wine, champagne and martini glasses to help guests keep track of their glasses
Have plenty of mixers available – juices (orange, cranberry, grapefruit and tomato), soda, tonic, ginger ale, cola, and Tabasco, lemons, limes, horseradish, and Worcestershire sauce
Let us help you prepare for your cocktail party with our wide assortment of party platters! We offer everything from finger sandwich trays to fresh seafood & vegetable platters. Call us at 1-800-666-7667, option 4, Monday –Friday, 8:30 am – 7:00 pm and Saturday and Sunday, 10:00 am – 4:00 pm, or 
click here
to order online. Looking for recipe ideas? Be sure to check out our Pinterest board! https://www.pinterest.com/pricechopper/beer-wine-food-pairings/
Written by Sara Lilkas, Marketing Intern 
One of my favorite holidays to celebrate growing up was Hanukkah. It may be because I am obsessed with potato latkes or the ridiculous amount of chocolate gelt I would get from my grandmother, but the eight night Festival of Lights remains one of my favorite holidays. Now I will get to the potato latkes later, but first let me tell you what Hanukkah is all about.
This year Hanukkah begins at sundown on December 24
th
, 2016. Hanukkah is an eight day celebration of the rededication of the Holy Temple in Jerusalem during the Maccabean Revolt. During the rededication there was only enough oil to light the menorah for a single day, the oil burned for eight days, which is why a candle is lit for every night of Hanukkah until all eight days are represented (as well as the shamash which is used to light the candles each night.)
Even though Hanukkah is a minor holiday in the Jewish religion it is widely celebrated in the United States and in Jewish communities around the world. Unlike some holidays there is no need to take off from work or to refrain from various activities. The Hanukkah celebration begins at sundown with the lighting of the candles in the menorah, with an additional candle being light for each night of the holiday. During the eight nights of Hanukkah some families exchange small gifts and play dreidel.
The dreidel is a four sided top with a different Hebrew letter on each side. The letters stand for
nes gadol hayah sham,
a great miracle happened here. Even though the dreidel game may appear to be only a fun game (
that has an awesome song that goes with it)
, it is actually a tribute to the Jewish people who had to study the Torah in private as a result of a series of laws making it illegal in the 2
nd
Century BC. When patrolmen came by they would hide their Torah's and spin tops to give the appearance that they were only gambling or playing a game and not participating in an illegal activity.
The dreidel game is not only a lot of fun, but is also very easy to play.
To play the dreidel game, each player starts with 10 or 15 coins (even though most people now play with chocolate gelt or another similar candy item
and who doesn't love winning candy?
), depending on which symbol the dreidel lands on, you will lose or win more coins or candy. The game is played in rounds and at the beginning of each round each player puts a coin or piece of candy into the pot. Every time the pot is empty all players put in one coin or piece of candy. On your turn, you spin the dreidel and follow the instructions associated with each symbol. The symbols mean:
Nun-

nisht

, nothing- nothing happens and it is the next person's turn

Gimel-

gantz,

"all" – the player takes the entire pot

Hey-

halb, "

half"- the player takes half the pot

Shin-

shtel,

"put in"- the player puts one coin in the pot
If you have no game pieces left you can either ask your fellow players for a loan or you are out of the game. When one player has won everything in the pot, the round is over. The number of rounds can vary depending on how many people are playing or family traditions, it is up to you to decide! The dreidel game can have slightly different rules depending on how they were handed down throughout the years, so it's a good idea to establish the rules and number of rounds you will be playing with before you begin.  
As with many Jewish holidays, the food served has significant meaning,
and it also happens to be delicious.
Since Hanukkah celebrates the miracle of the oil lasting for eight days in the menorah oily foods are made to
represent the
miracle
. The two most popular food items prepared for Hanukkah are potato latkes and Sufganiot, which are deep fried doughnuts. The latkes are usually topped with applesauce or sour cream.
Personally I think applesauce is the only option you need, but you can put whatever you like on your potato latkes.
There is not always a large holiday meal during the eight nights of Hanukkah, but many families make an effort to spend time together. Whether it's playing dreidel,  or singing Hanukkah songs the emphasis, is about celebrating together.  
Check out our
Pinterest Board
for Hanukkah recipes and crafts! Have a Happy Hanukkah!