Written by Jane Golub Director In-Store Marketing Programs August 27, 2017
NESTLE SKINNY COW GREEK FROZEN YOGURT
Indulge in Skinny Cow Frozen Treats and Skinny Cow Chocolate Candy.  You'll find happiness in every mouthful.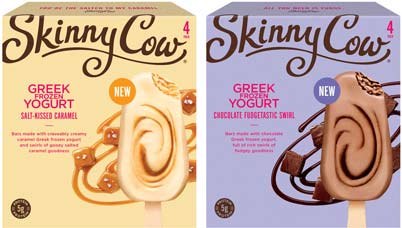 You can find two Skinny Cow Frozen Yogurt Bars at Price Chopper!  Salt Kissed Caramel bars are made with craveably creamy caramel Greek Frozen Yogurt and swirls of gooey salted caramel goodness.  Each bar contains 5g of Protein and is only 100 Calories per serving.  The second, Chocolate Fugetastic Swirl bars are made with chocolate Greek Frozen Yogurt, fill of rich swirls of fudgy goodness!  Each bar contains 5g of Protein and has 110 calories per serving! You'll find both of these delicious Frozen Yogurt treats in the Frozen Novelty Ice Cream Section.  Look for Skinny Cow Chocolates in the Candy aisle.
Written by Jane N. Golub
Director In-Store Marketing Programs
                              McCAIN CRAFT BEER BATTER THIN CUT FRIES
Now you can have your fav
orite Craft Beer Batter Fries at home! McCain Craft Beer Thin Cut Fries are Crafted with American Pale Ale and are the perfect complement to any meal or to pass around for any occasion.  McCain has answered the call from Millennials and Gen Xers alike and captured the Craft Beer experience in their fries! Leave it to McCain to create a unique delicious Craft Beer Batter French Fry that everyone will love!  You can always count on McCain to provide plenty of choices to please the family.  With various seasonings, shapes and varieties like new Craft Beer Batter Thin Cut, you can wow your family with a different potato every night.  Even the pickiest eaters will find something to love. You can find these delicious McCain Craft Beer Batter Thin Cut Fries alongside the other Great McCain Fries in the Potato section of the Frozen aisle.
                                             OUTSHINE SIMPLY YOGURT BARS
Outshine Simply Yogurt Bars are the first of its kind – made with 100% Grade A yogurt that happens to be frozen!  Grade A yogurt is the first ingredient – no other frozen yogurt snack can say that! They have been able to create these refreshing and filling snacks without any of the grainy texture from freezing refrigerated yogurt and without using ANY fillers.  Outshine Simply Yogurt Bars use real fruit, keep live and active cultures and include the functional benefit of 54 grams of protein that the disciplined health seeker is looking for. Strawberry and Peach Outshine Yogurt Bars are available in the Ice Cream section of the Frozen aisle. What is your family's favorite game to play together?
It's hard sometimes to spend as much time as we'd like with our families. That's why it's so important to make the time that you do spend together even more special. Nestlé's Nesquik wants to treat your family to a movie night!
Nesquik
offers quick and easy ways to complement the natural nutrition of milk and make irresistibly delicious drinks that kids will ask for every time.  Comment on our blog below AND our
Facebook page
telling us what game you LOVE to enjoy with your family! Four lucky winners will receive a $50 Regal Cinemas gift card to see Disney's
Wreck It Ralph
! This contest runs from Thursday, November 1-Monday, November 5. This contest will end at 5:00 PM on Monday, November 5.  Winners will be chosen on Tuesday, November 6, 2012. Read official rules
here
.