We Have You Covered for ThanksVegan!
As passionate food lovers, Thanksgiving is one of our favorite days of the year. There are so many delicious entrees, sides, and desserts to enjoy. We always love trying new dishes, and this holiday we are looking forward to some vegan options. Check out the recipes below that are guaranteed to make your ThanksVegan celebration a success!
ThanksVegan Appetizer: Pumpkin Hummus
1 can PICS Chickpeas, drained
3/4 cup pumpkin purée
2 Tbsp. tahini
2 Tbsp. lemon juice
1 tsp. salt
1 tsp. olive oil plus more, for garnish
Roasted pumpkin seeds, for garnish (optional)
1 bag PICS Mini Pretzels
Place all the ingredients except the olive oil, pumpkin seeds (if using), and pretzels in a food processor and blend until smooth and creamy.
Transfer to a bowl and drizzle with the olive oil. Top with the roasted pumpkin seeds, if desired.
Serve with pretzels for dipping.
Makes about 2¾ cups
ThanksVegan Entrée: Butternut Squash Bird's Nests
2 cloves garlic, minced
1 Tbsp. + 1 teaspoon oil (olive or avocado)
1 pkg. PICS Butternut Vegetable Noodles
½ onion, chopped and sautéed
1 can PICS Chickpeas, drained
1/2 tsp fresh rosemary, chopped
Salt and pepper, to taste
Fresh herbs, for garnish (optional)
In a skillet, sauté the garlic in the oil for 2 minutes, or until fragrant.
Preheat oven to 350 F. Toss chickpeas in rosemary, salt, and pepper.
Create separate piles ("nests") of squash in a baking dish, fill each nest with chickpeas, drizzle with oil and bake for 20 minutes.
Serve immediately with fresh herb garnish, if desired.
Makes 3 servings
ThanksVegan Dessert: Pumpkin Pie Spice Chocolate Ice Cream Floats
4 scoops PICS Very Chocolate Vegan Non-Dairy Frozen Dessert
4 oz. bourbon or dark rum (optional)
Chilled ginger ale
Optional toppings: vegan whipped cream and pumpkin pie spice
Place 1 scoop of the ice cream in a tall chilled glass.
Add the bourbon or rum, if using, then fill to the top with ginger ale.
Top with vegan whipped cream and pumpkin pie spice, if desired. Repeat with the remaining ingredients.
Makes 4 servings
Vegan Strawberry Shake2 scoops PICS Strawberry Vegan Non-Dairy Frozen Dessert
1 cup PICS Unsweetened Almond Milk
1 cup fresh or frozen strawberries
Place ice cream, almond milk, and strawberries into a blender and blend until smooth.
Serve immediately and enjoy!
Makes 2 servings
If you are anything like me, mealtime is always a last-minute preparation occasion. I am either missing ingredients or have simply run out of time to get something on the table for my family. Have no fear, as the newest line of Carolina® Ready to Serve Rice is here to save the day, and some time!
Carolina® Ready to Heat Jasmine Rice is a fast and convenient way to put delicious flavor, with quality you can trust, on every plate. This long grain variety is precooked, but made with no added preservatives and no MSG.  Now, you can enjoy all of the delicious aromatic taste of traditional Thai Jasmine Rice, in less time, and without skimping on quality or flavor. This ready to heat product is microwavable and ready in 90 seconds providing a meal that is not only quick but high value. It's apparent that Carolina Rice puts their heart and soul into giving you and your family delicious tasting products, using Non-GMO Project Verified Jasmine Rice. It is also perfect for a variety of dietary needs including Gluten Free and suitable for vegan and vegetarian diets.
You can find these tasty varieties in the rice aisle at Price Chopper/Market 32:
Jasmine White
Garlic and Olive Oil Jasmine
Cilantro Limón Jasmine
The real question is…which NEW Carolina® Ready to Serve Rice flavor are you going to try first?
Asian Chicken & Jasmine Rice Salad
This nutritious Asian salad made with a prepared sesame dressing and shredded cooked chicken makes a quick and easy lunch or dinner.
Prep Time: 10 minutes
Cook Time: 0 minutes
Total Time: 10 minutes
Serves: 4
Ingredients:
2 pkg (8.8 oz each) Carolina® Jasmine Rice RTS
1 bag (12 oz) prepared shredded coleslaw mix
1 1/2 cups shredded cooked chicken
1 cup shelled edamame, cooked
1 seedless orange, segmented
1/2 cup prepared sesame dressing
2 tbsp lime juice
1/3 cup roasted cashews
Instructions:
Prepare rice according to package directions; let cool. Toss together rice, coleslaw mix, shredded chicken, edamame, orange segments, sesame dressing and lime juice.
Divide among bowls. Sprinkle with cashews before serving.
Tip: Use canned mandarin orange segments for easy preparation.
Perfect for busy nights, this family-friendly chicken and rice bowl only takes minutes to prepare with shredded cooked chicken.
Prep Time: 5 minutes
Cook Time: 0 minutes
Total Time: 5 minutes
Serves: 4
Ingredients:
2 pkg (8.8 oz each) Carolina® Jasmine Rice Naturally Flavored Cilantro Limon RTS
1 cup shredded cooked chicken
1 cup shredded lettuce
1/2 cup shredded Cheddar cheese
1/2 cup halved cherry tomatoes
1/4 cup ranch dressing
1/4 cup guacamole
Instructions:
Prepare rice according to package directions.
Divide rice among 4 bowls. Top with chicken, lettuce, cheese and cherry tomatoes.
Drizzle ranch dressing over top. Serve with guacamole.
Tip: Substitute pulled pork, shrimp or black beans for chicken.
Rice and Beans Skillet Dinner
This take on a New Orleans favorite is ready in minutes – so you can let the good times roll.
Prep Time: 5 minutes
Cook Time: 10 minutes
Total Time: 15 minutes
Serves: 4
Ingredients:
2 pkg (8.8 oz each) Carolina® Jasmine Rice Naturally Flavored Garlic & Olive Oil RTS
2 tbsp olive oil
1 onion, diced
2 stalks celery, diced
1 red pepper, diced
2 tbsp Cajun seasoning
1 can (19 oz) pinto beans, drained and rinsed
1 cup tomato sauce
2 tbsp finely chopped fresh parsley
2 tbsp thinly sliced green onions
1 tbsp lemon juice
Instructions:
Heat oil in large skillet set over medium heat; cook onion, celery, red pepper and Cajun seasoning for about 5 minutes or until vegetables are slightly softened.
Increase heat to medium-high; stir in rice, pinto beans, tomato sauce and 1/4 cup water. Cook for about 5 minutes or until heated through and sauce is thickened.
Remove pan from heat; stir in parsley, green onions and lemon juice. Divide evenly among bowls.
Tip: For smoky flavor, sprinkle cooked and crumbled bacon over each serving.
New Items: Bantam Bagels Mini Stuffed Pizzas
Bantam Bagels – the most unique and exciting way to eat New York's most iconic food, burst into NYC's bagel-sphere in 2013, changing the way that people eat the iconic bagel. Since reinventing the bagel, Bantam has quickly become the go-to brand for foodie-focused disruption. Bantam grasped the attention of all carb loving, calorie conscious, on the go foodies of New York City and beyond! 
Bantam is the brand that takes the classic bagel you absolutely love and stuffs it full of everything you want to go on top of a great bagel, on the inside. From their everything bagel stuffed with veggie cream cheese, to bagels stuffed with soft scrambled egg, cheddar cheese and bacon, Bantam makes breakfast accessible, fun, portable and not to mention, delicious!
Now, Bantam Bagels is excited to introduce the newest way to enjoy an iconic bite of New York City with their brand new Mini Stuffed Pizzas! We're talking real deal NYC pizza dough, stuffed with mouthwatering marinara sauce, mozzarella cheese and more. These handheld pizza snacks are perfect for mobile munching, or easy and delicious dinners. Now available in Margherita, pizza dough stuffed with marinara, mozzarella and basil & Pepperoni, pizza dough stuffed with marinara, mozzarella and pepperoni!
Surviving the toughest bagel critics – New Yorkers, The Oleksaks continue to believe if you can make it here, you can make it anywhere, and that is a classic New York story.
Shop new Bantam Pizzas in the frozen section of a Price Chopper near you!
Doritos 3D Crunch is a new, unique snack with intense crunch and bold twists on fan-favorite flavors -a whole new way to experience Doritos.
Try Doritos 3D Crunch Chili Cheese Nacho for a savory chili and cheese flavor that will have you coming back for more, or try Spicy Ranch for a twist on your favorite creamy ranch with a kick of heat.
Doritos believes there's boldness in everyone. They champion those who are true to themselves, who live life fully engaged and take bold action by stepping outside of their comfort zone and pushing the limits.
Step outside your comfort zone and try Doritos 3D at your local Price Chopper & Market 32 today!
Assorted Halloween Cupcakes
1 vanilla boxed cake mix
1 tablespoon green decorating sugar
Orange food coloring
Yellow food coloring
Cupcake liners
Preheat the oven to 350 degrees.
Mix cake batter as directed on the box. Divide batter into thirds.
Fill four lined muffin tin cups with the plain vanilla batter until almost full. 
Stir 1 tablespoon of green decorating sugar into 1/3 of the batter and stir until it turns green. Fill four of the lined muffin tin cups.
Divide the remaining 1/3 of the batter into thirds again. Add yellow food coloring to one portion, orange food coloring to another portion, and stir. Fill the remaining four lined muffin cups with a layer of yellow batter, followed by a layer of orange batter, and finally the remaining vanilla batter, to create a candy corn affect.
Bake 20-25 minutes and let cool completely
4 vanilla cupcakes
3.3 oz white chocolate pudding
1 cup milk
4 oz. PICS frozen whipped topping, thawed
8 PICS mini chocolate chips
Stir the pudding and milk together until it thickens. Fold in whipped topping. Put aside enough to frost the top of the four vanilla cupcakes. Place the rest of the mixture into a snap and seal lunch sized bag and clip the corner to create a piping tool.
Use an apple corer (or ??) to create a hollowed center in the cupcakes. Pipe the whipped topping into the center, then frost the cupcakes with the topping put aside. Pipe more whipped topping on top of the cupcakes, like a vanilla ice cream cone, to create ghosts. Add two mini chocolate chips as eyes.
4 green cupcakes
Green frosting
12 pieces black licorice twists
8 Large candy eyes
Using a star tipped tool, pipe the green frosting in dollops onto cupcakes, creating a bumpy texture.
Add two large candy eyes to each cupcake.
Cut each black licorice twist in half and then carefully score in the middle with a sharp knife so that the twist can be bent to create legs. Push legs into each cupcake.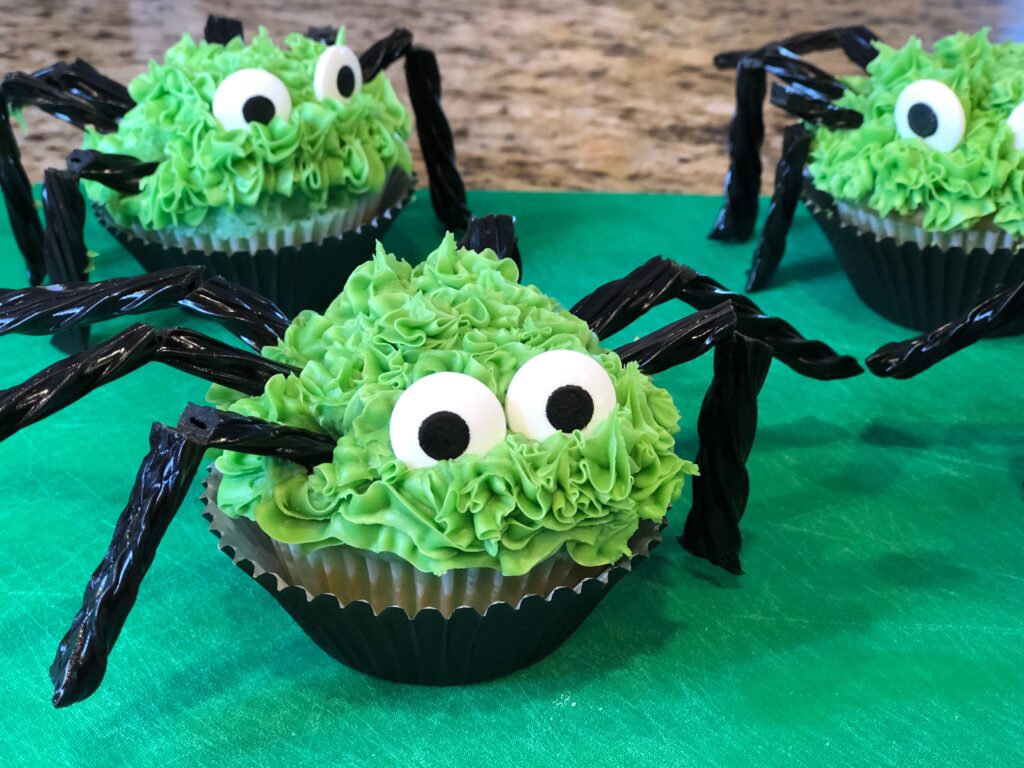 4 vanilla cupcakes
4 tablespoons PICS butter, room temperature
2 ½ cups PICS confectioner's sugar
1 ½ teaspoons PICS vanilla extract
3 tablespoons PICS milk
8 large candy eyes
Candy corn
Using an electric mixer, whip butter, confectioner's sugar, vanilla extract and milk in a bowl.
Frost cupcakes, add two large candy eyes, and place candy corns on top, creating a  spiked affect.
More on Making These Cupcakes
Swap the Oil:  Use 4 oz. of PICS unsweetened applesauce.
Eliminate the Eggs:  Swap out the eggs with ¼ cup of PICS plain Greek yogurt.
Gluten and Dairy Free Options:  Price Chopper and Market 32 have a variety of alternative cake mix options located in either the baking or allergen friendly aisles.
Make a Whole Dozen:  To make a complete dozen of one of these variations, simply triple the directions for the selected cupcake.
BOO! Did Halloween sneak up on you too? Halloween has always been one of our favorite holidays. Costumes, candy, jack-o-lanterns, what's not to love? Growing up trick-or-treating was always a blast, but don't worry, if you're too old for trick-or-treating there's still plenty of ways to have fun on Halloween.
A scary movie marathon is an easy and fun way to get the spook factor in. With all of the streaming services available these days, the options are a plenty. Check out classic scares like The Shining, Scream, or Nightmare on Elm Street. Or more family-friendly options like Halloweentown or Hocus Pocus. Gather your friends, grab some PICS Popcorn and settle in for some frights.
Another fun way to get in the spirit of Halloween is through decorations. Whether you're having a pumpkin carving contest with friends, or simply looking to make your porch more festive, we have all the pumpkins and gourds needed to do so.
At Price Chopper & Market 32 we love Halloween as much as you do! That's why we provide all the candy, pumpkins, and sweet treats you need to have a spooky great holiday. For all things Halloween stop by your local store or visit our online halloween hub!
Happy Halloween!
How Do You Like Your Taco?
Finally, when you think of a classic taco you think ground beef. That's why we love these Chipotle Ground Beef Street Tacos for the food truck vibes and flavors. And if you're looking for some classic taco-style comfort food, these Navajo Tacos are perfect.
No matter how you choose to taco, tonight is the night to do it! Try out any of these amazing recipes for the ultimate National Taco Day dinner. For everything you need to get set up, Price Chopper & Market 32 is your one stop shop for all things tacos.
Happy National Taco Day!
Beech-Nut Home.grown. Baby Food
Since 1932, we've been partnering with local farmers and producers in our region. You can find regionally produced products in departments across our stores, including our baby food aisle, thanks to our Upstate New York friends at Beech-Nut.
120 years ago it all started in downtown Canajoharie, NY. World-famous baby food company Beech-Nut began as the Imperial Packing Company in 1881. Founded by Bartlett Arkell, brothers Raymond and Walter Lipe, and other brothers John and David Zieley. They started off smoking hams, but as time went on added other products, such as chewing gum, coffee, and of course, baby food. By 1900, sales climbed up to $200,000 and the company was officially incorporated as the Beech-Nut Packing Company.
During its heyday, Beech-Nut employed between 1,800 to 2,200, and many retirees have remained loyal to the company. With its success, Beech-Nut brought a wonderful buzz to the upstate New York village. The daily downtown lunch scene was vibrant, sidewalks and local eateries were full of life. The plant was truly the heartbeat of Canajoharie, and the companies baby food was the main reason for such prosperity.
The manufacturing of baby food sent a sweet, fruity scent flowing through the community, as Beech-Nut continued to work on its formulas. In 1977, a line of baby food was introduced with no added salt, twenty years later it removed refined sugar, and in 2002 introduced a line with essential fatty acids.
After a 119-year tenure in Canajoharie, Beech-Nut moved its headquarters to Montgomery County's Town of Florida Business Park, where it remains today. Beech-Nut remains a consistent home.grown. source of high-quality baby food right in our own neighborhood.
Beech-Nut is just another example of our pride in local products and providing the best to our customers. Thanks to local famers and producers right in our region, we can continue to meet our home.grown. goals.
National Homemade Cookie Day
Break out the baking sheets, today is National Homemade Cookie Day! With the beginning of fall and the weather cooling down, warm, fluffy homemade cookies definitely will have you feeling cozy. Whether you're baking pre-made dough right in the oven, or working from scratch, we have the recipes for you to celebrate appropriately!
These Pumpkin Cookies with Orange Glaze are a great place to start. Perfect for turning the calendar to October. These guys are full of refreshing orangey flavor and all the pumpkin you need to satisfy your craving for fall flavors.
Feeling festive? Try our these cute and creative Halloween Sugar Cookies. Decorate your sugar cookies with candy corn, gels, edible confetti and more to create your monster lineup of yummy treats.
It's never too early for these Hot Chocolate Cookies! Great for cooler weather and a must at the holidays, these cookies elevate hot chocolate to a new level.
We love these Chocolate Chip, Oatmeal, & Dried Cherry Cookies. Cherry and chocolate flavor combined with the warmth of oatmeal. Delightful!
These PICS Potato Chip Chocolate Chip Cookies combine two classic snacks into one. Potato chips and chocolate chip cookies. The chocolate of the cookies blends with the saltiness of the potato chips for an awesome flavor adventure.
Celebrate cookies right with one of these excellent recipes. No matter which you chooser, we have all of the neccessary ingredients available at your local Price Chopper & Market 32. Your one stop shop for all things cookies!
Ultimate Guide to Tailgating
Fall has begun and football season is underway. That means the return of one of our favorite pastimes, tailgating! There's nothing like getting together with your friends, enjoying good food and cold brews, and getting amped for the big game. It's a tradition that will never get old! Here's our guide to the ultimate tailgate.
When it comes to tailgating, there are plenty of great options. The first is a  sub & sandwich platter. If you're tailgating with a decent-sized group, sandwich platters are easy. They can feed the group, and they are good for bringing on the go and eating outdoors. They are fantastic for making sure everyone gets a good amount of eats. Plus, the PICS potato chips you brought to snack on are a great compliment!
The next option, grilling. If you have a dedicated griller in the group bringing your setup to the tailgate is a fun idea. Burgers, hot dogs, steak, sausage linksand more are all great options for gameday. Don't forget the burger buns and hot dog rolls!
Now, let's talk snacks and sides. We mentioned PICS potato chips. How about tortilla chips to dip into salsa or guac? Convenient and easy for travel. Potato salad, macaroni salad, and pasta salad containers are also nice options. They go great with grilled meats or sandwiches, and the small containers are very portable.
Can't forget some cold beer to wash down the delicious food. For tailgating, a nice light beer such as Bud Light is a strong choice. You'll be able to enjoy some cold ones, while keeping your head in the game. Rather than being filled up on heavier beverages. As always, make sure to drink responsibly!
Don't forget to tap into our Simple Done line of products for the paper plates, utensils, napkins, and cups you need for tailgating!
We're excited to have football back to get back to tailgating. Don't forget to stop by your local Price Chopper and Market 32 all season long for all of your essentials. Here's to a fun, successful season of celebrating !
Shop Tailgating Favorites