Camping Essentials
In this summer of social distancing it's challenging to find ways to enjoy the season while remaining safe at the same time. Camping is an excellent way to get outdoors while taking the necessary precautions. If you're planning a camping trip for the first time, we've put together a list of some of our essentials to make your trip a success!
Simply Done Household Products: Our Simply Done brand has everything you need to make your trip easy. From cutlery to trash bags, all the necessary household products are included on our website so you can rest assured that you did not forget anything. You will be all set for the entirety of your trip!
Sunscreen: When it comes to spending time in the great outdoors the sun is one of nature's biggest threats. It's important to stay protected with sunscreen while having fun in the sun. Luckily, we offer a number of brands for you to choose from.
PICS Snacks: Our PICS brand offers an awesome variety of snacks, including our new and improved PICS chips line which features four new flavors. PICS offers plenty of items, keeping you stocked up and satisfied all trip long!
Beer (21+): Beer always makes a nice addition to a getaway. Stop by your local store where we offer a wide range of local brews for your convenience. There's something for everyone to enjoy the trip.
Things may be different this year but we are still finding ways to get out and enjoy the nice weather. A camping trip is a quiet, fun time with the family. Perfect for this particular summer. We recommend checking out all of these options to make your trip the ultimate success!
Much of the holidays is centered on food. From snacks, to family feasts, cookies, and desserts, it's a certainly a time of food-filled festivities. But we don't stop there. We love food so much during the holidays that we decorate our homes with it. Need some ideas? We've got you covered with a few spirited tips!
Do you have any edible ornaments on your Christmas tree? They make a cute addition and the whole family can partake in the fun! Simply roll out some cookie dough and use your holiday cookie cutters to create different designs. Make sure to poke out a hole at the top of the dough to put some string through, and follow the baking directions on the package. Once they're baked, decorate with icing and sprinkles and thread the string or ribbon through the hole! 
For a simple, yet fun and effective holiday decoration try making a candy cane vase. Use a larger vase of your choice and line it with candy canes, keeping the candy canes in their wrapper. Take a smaller vase and put it inside the larger one. Grab some red carnations and put them in the center and you're set!
How about a creative centerpiece? Try your hand at making a garlic knot Christmas tree centerpiece. Buy a Styrofoam cone, stick some toothpicks it in and press garlic knots onto the toothpicks. Some freshly grated parmesan cheese can simulate fresh snow and the garlic knot tree can be completed with a star on top made out of cheese. To make your creation extra festive, create a tree skirt with fresh sprigs of thyme and rosemary, and serve with small dipping bowls of marinara sauce.
It's always fun to decorate during the holidays, especially when you're coming up with creative ways to make sure the halls are more decked than ever before. Food is a great option for unique ideas and there are number of options to try out. Whether you give one of these examples a go or try an idea of your own, stop by your local store for everything you need!
by Maureen Murphy, Manager of Consumer Trends, Nutrition and Lifestyles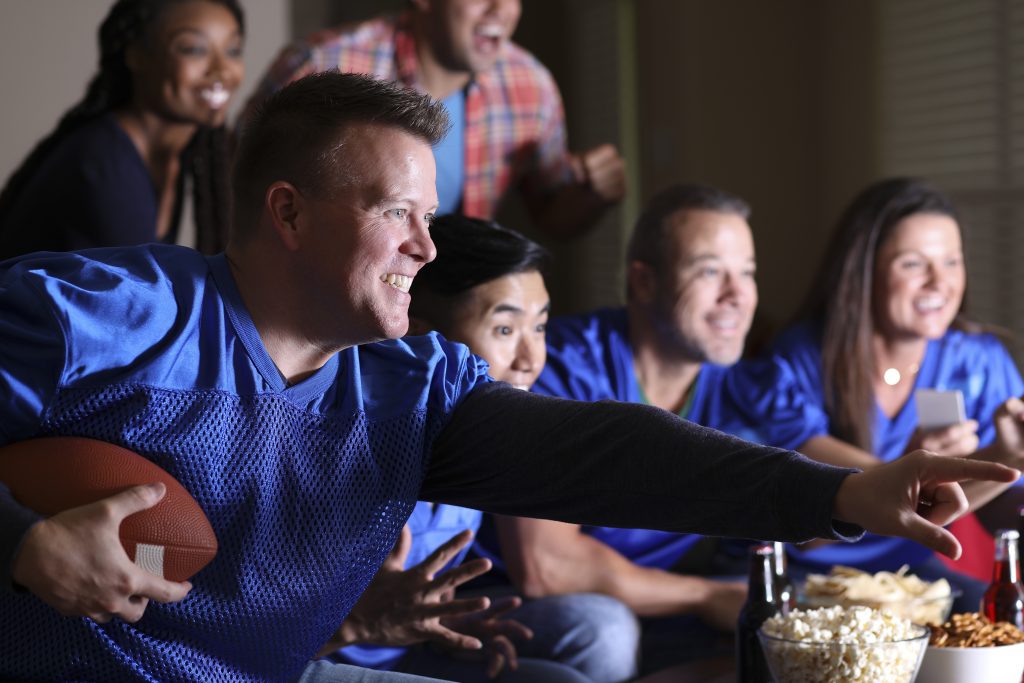 The finale of the NFL season for many is all about the game, but for others who celebrate this annual sporting event, the focus is on friends, food and fun. Super Bowl Sunday is the second-largest food "holiday" in the United States, second only to Thanksgiving.  It's believed that football fans consume about a day's worth of calories during the game, so it's easy to see how good-intentioned New Year's resolutions to eat better get derailed by noshing on chips and dip, pizza, chili and chicken wings. Whether you're the host or a guest bringing a dish, you can create lighter versions of traditional favorites for all to enjoy without sacrificing taste for better nutrition. Below are some simple tweaks to help, and since no big game party would be complete without chicken wings, you'll score below with a delicious alternative!
Pass up the potato chips and still get that satisfying crunch with veggies or baked pita chips
Dip into guacamole or hummus for nutritious flavor
Add nonfat (or lowfat) yogurt, cream cheese and mayo to dips, spreads and desserts rather than their higher fat counterparts
Go for baked and forget the fried
Top pizza with extra veggies instead of meat and go light on the cheese or change it up with a cauliflower crust
Order/make sub sandwiches with lots of veggies and lean deli meats like turkey, hold the mayo and top with tapenade or a drizzle of olive oil
Warm up with chili loaded with fiber not meat
Rethink your drinks – offer fruit-infused water, seltzer or diet soda for guests to sip on instead of higher calorie and sugary beverages like alcohol, soda or juice
Written by Jane Golub Director In-Store Marketing Programs May 20, 2018
SIMPLY SURIMI
Simply Surimi Seafood Sticks are a great-tasting new seafood product that are best described as the natural evolution of imitation crab products. Made from high quality wild and sustainable Alaska Pollock and just eight other natural ingredients. Simply Surimi is certified gluten-free by Beyond Celiac and certified heart healthy by the American Heart Association and recently verified by the Non-GMO Project.
The Seafood Sticks are also an excellent source of protein with 10g per serving.  Packaged in a single serving 3.7-ounce size, Seafood Sticks are a wholesome and hearty snack that are perfect for active kids, fitness enthusiasts and anyone trying to maintain a healthy lifestyle. Enjoy Simply Surimi plain right out of the bag or dipped in cocktail sauce or with your favorite dressing. Look for Simply Surimi in the Refrigerated Seafood Case.