Written by Jane Golub Director In-Store Marketing Programs January 7, 2018
MAC & CHEETOS
Mac n' Cheetos are here – and the Frozen Aisle just got dangerously cheesy! How can Cheetos take a classic snack and make it even better?   They pack their already delicious Cheetos with real macaroni and cheese! Mac n' Cheetos offers fans a mouthwatering combination of dangerously cheesy flavor
on the outside and creamy mac n' cheese on the inside, two great tastes rolled into one incredible snack.  Ready after just minutes in a conventional or toaster oven, you can enjoy the delicious goodness of Mac n' Cheetos any time you feel a craving. Available in two flavor varieties: Mac n' Cheetos Cream Cheddar Mac & Cheese and Mac n' Cheetos Flamin' Hot Mac & Cheese. Look for your new favorite snack – Mac & Cheetos – in the Frozen aisle.   Take home this dangerously cheesy snack today! Written by Jane Golub Director In-Store Marketing Programs August 27, 2017
NESTLE SKINNY COW GREEK FROZEN YOGURT
Indulge in Skinny Cow Frozen Treats and Skinny Cow Chocolate Candy.  You'll find happiness in every mouthful.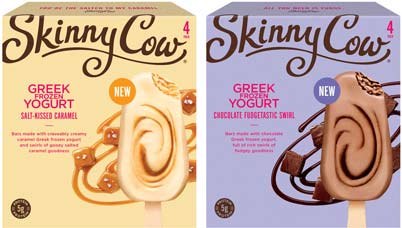 You can find two Skinny Cow Frozen Yogurt Bars at Price Chopper!  Salt Kissed Caramel bars are made with craveably creamy caramel Greek Frozen Yogurt and swirls of gooey salted caramel goodness.  Each bar contains 5g of Protein and is only 100 Calories per serving.  The second, Chocolate Fugetastic Swirl bars are made with chocolate Greek Frozen Yogurt, fill of rich swirls of fudgy goodness!  Each bar contains 5g of Protein and has 110 calories per serving! You'll find both of these delicious Frozen Yogurt treats in the Frozen Novelty Ice Cream Section.  Look for Skinny Cow Chocolates in the Candy aisle.
Written by Jane N. Golub
Director In Store Marketing Programs
DOLE BANANA DIPPERS
New Dole Banana Dippers come in two varieties – Dole Banana Dippers in  Dark Chocolate and Dole Banana Dippers in Dark Chocolate with Almonds. The goodness of bananas comes together with the rich indulgent taste of dark chocolate and almonds.  New Dole Banana Dippers are fresh frozen banana slices covered in a splash of dark chocolate or dark chocolate with a touch of almonds. Dole Banana Dippers deliver 4 grams of Dietary Fiber, 180 mg of Potassium, only 7 grams of sugar and 120 calories per serving.  Dole Banana Dippers are a convenient healthy snack for families and an elegant way to serve fruit for parties.  Simply pull from your freezer and enjoy anytime, anywhere! Dole continues to reinvent Frozen Fruit by offering consumers easier ways to incorporate fruit into one's diet – with an  emphasis on quality.  Dole has a variety of other frozen fruits like blueberries and strawberries in cups or bags and ready-cut fruit like strawberries and bananas.  New Dole Shakers are a fun and easy way to make a fruit and yogurt Smoothie for home or on the run. Banana Dippers, Shakers and Dole Fruit can be found in the frozen fruit section of the Frozen aisle.  Dole is committed to bring healthy and delicious product to the market and is your brand for quality and innovation.
GARELICK FARMS NEW TruMoo LOWFAT VANILLA MILK
For a limited time only, Garelick Farms NEW TruMoo Lowfat Vanilla Milk has turned a lucky green color for St. Patrick's Day! TruMoo Vanilla Lowfat Milk offers the same wholesome goodness of regular lowfat TruMoo with a delicious vanilla taste kids love and essential protein, calcium and Vitamins A & D kids need every day. TruMoo Vanilla Milk is made with delicious vanilla flavor, just enough sugar (no high fructose corn syrup) and a lucky green color to add some fun.  TruMoo Lowfat Green Vanilla milk, with a festive St. Patrick's Day label, is only available in Half Gallons through March 17th.  Make St. Patrick's Day Delicious and Nutritious! TruMoo Lowfat Chocolate Milk is available in a variety of sizes: Gallon, Half Gallon, Quart and Single Serve.  Visit
www.TruMoo.com
for more information. Look for Garelick Farms TruMoo Lowfat Vanilla Green Milk in the Dairy aisle.