Welcome to week two of our #ChillinWithChopper journey! Each week has a set theme, so be sure to follow our Facebook page to be in the know!
This week we are highlighting some of our delicious frozen items and recipes, such as ice cream, frozen fruit, smoothies, and more. Frozen desserts offer a wide array of flavors and textures, making them a delightful treat for people of all ages. They can be store-bought or homemade, and many variations and creative recipes can be found to suit different tastes and dietary preferences. Let's take a look at some of our favorite delicious recipes!
Be sure to check out our websites for more frozen dessert inspiration!
It is hard to believe that today is already the first day of March! For the entire month, Price Chopper and Market 32 are celebrating National Frozen Food Month. We have a large variety of frozen foods, ranging from frozen produce, to ice cream, to frozen meals. Oh, and we cannot forget to mention that you can earn 20,000 bonus points on a freezer this month while supplies last! Continue reading to find out how.
Why Purchase Frozen Foods?
Purchasing frozen foods is a fantastic way to save money and time. Frozen meals are easy to prepare and are budget-friendly. We have delicious meals that can be cooked in minutes, which is perfect if you are in a time crunch. Additionally, unused frozen foods can simply be returned to the freezer and used for another meal. It is a win-win! 
Everyone is Included!
At Price Chopper and Market 32, we want to ensure that there is an option for everyone. We have many vegan and vegetarian frozen meal options, as well as dairy-free ice cream and pizza, frozen gluten free bread, and much more. Head over to your local Price Chopper or Market 32 and discover our incredible variety of frozen food.
How Can I Earn 20,000 Rewards Points?
Yes, you read that right. You can earn 20,000 Rewards Points which equals $200 when you purchase an RCA Chest Freezer. Here is the best part; the Chest Freezer costs $200, so you will be earning that $200 back in the form of Points! How cool is that! For more information, please visit our Frozen Food Frenzy.
Want to explore some frozen drinks & bowls? Check out a few cool recipes below!
Caramel Milkshake: A four-ingredient delicious caramel milkshake is a must! Be sure to grab PICS whipped cream to complete this shake.
Hawaiian Smoothie Bowl: A tropical smoothie bowl that could be eaten as a meal, snack, or dessert! Feel free to add any other frozen fruits or toppings in this delicious bowl.
Kicked-Up Green Smoothie: A mix of frozen fruits & vegetables. This drink will help energize you throughout your day!
Happy National Frozen Food Month!
How to Make Ice Cream at Home
Ice cream is an amazing treat! Especially on those beautiful summer nights. But stopping buy your local shop can add up throughout the season. That's why sometimes it's nice to make your own homemade ice cream. It can sound intimidating, but it can actually be super easy. Here's our guide to making ice cream at home!
The easiest way to make ice cream takes only four ingredients, a mason jar, and just a bit of elbow grease. 1 cup of heavy cream, 1.5 tablespoons of granulated sugar, .5 teaspoons of vanilla extract, and a pinch of salt is all it takes. Add these ingredients to a mason jar, twist the lid on tight, and shake. This is where the elbow grease comes in. The mixture needs a good shake for 4 to 5 minutes, if you can call in some backup or other members of the household that will certainly help. Just tell them they will be getting ice cream out of the deal!
Once it's nice and shaken, the mixture will have doubled in size and nicely coats the back of a spoon. Once you've reached this point you know you're ready for the next step…freezing! Store the jar in the freezer and in about 3 hours, you should have created firm, scoopable ice cream. This is the simplest way, but definitely add in your own flavorings to the base or toppings to the final ice cream product.
You can also make ice cream in plastic baggie at home. Add the same ingredients to small, resealable plastic bag, make sure all the excess air is out and the bag is sealed tightly. Meanwhile, combine salt and ice in a large resealable plastic bag.  Place the small bag inside the large bag and shake, elbow grease again, but this time for 7 to 10 minutes, until the ice cream hardens. Remove from the bag and enjoy!
Sources:
https://www.delish.com/cooking/recipe-ideas/recipes/a54721/ice-cream-in-a-bag-recipe / https://www.mentalfloss.com/posts/how-to-make-simple-homemade-ice-cream
Written by Jane Golub Director In-Store Marketing Programs January 7, 2018
MAC & CHEETOS
Mac n' Cheetos are here – and the Frozen Aisle just got dangerously cheesy! How can Cheetos take a classic snack and make it even better?   They pack their already delicious Cheetos with real macaroni and cheese! Mac n' Cheetos offers fans a mouthwatering combination of dangerously cheesy flavor
on the outside and creamy mac n' cheese on the inside, two great tastes rolled into one incredible snack.  Ready after just minutes in a conventional or toaster oven, you can enjoy the delicious goodness of Mac n' Cheetos any time you feel a craving. Available in two flavor varieties: Mac n' Cheetos Cream Cheddar Mac & Cheese and Mac n' Cheetos Flamin' Hot Mac & Cheese. Look for your new favorite snack – Mac & Cheetos – in the Frozen aisle.   Take home this dangerously cheesy snack today! Written by Jane Golub Director In-Store Marketing Programs August 27, 2017
NESTLE SKINNY COW GREEK FROZEN YOGURT
Indulge in Skinny Cow Frozen Treats and Skinny Cow Chocolate Candy.  You'll find happiness in every mouthful.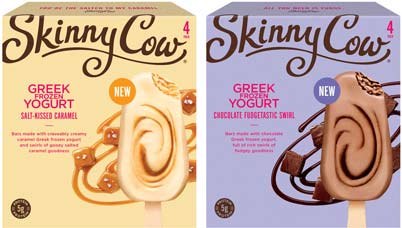 You can find two Skinny Cow Frozen Yogurt Bars at Price Chopper!  Salt Kissed Caramel bars are made with craveably creamy caramel Greek Frozen Yogurt and swirls of gooey salted caramel goodness.  Each bar contains 5g of Protein and is only 100 Calories per serving.  The second, Chocolate Fugetastic Swirl bars are made with chocolate Greek Frozen Yogurt, fill of rich swirls of fudgy goodness!  Each bar contains 5g of Protein and has 110 calories per serving! You'll find both of these delicious Frozen Yogurt treats in the Frozen Novelty Ice Cream Section.  Look for Skinny Cow Chocolates in the Candy aisle.
Written by Jane N. Golub
Director In Store Marketing Programs
DOLE BANANA DIPPERS
New Dole Banana Dippers come in two varieties – Dole Banana Dippers in  Dark Chocolate and Dole Banana Dippers in Dark Chocolate with Almonds. The goodness of bananas comes together with the rich indulgent taste of dark chocolate and almonds.  New Dole Banana Dippers are fresh frozen banana slices covered in a splash of dark chocolate or dark chocolate with a touch of almonds. Dole Banana Dippers deliver 4 grams of Dietary Fiber, 180 mg of Potassium, only 7 grams of sugar and 120 calories per serving.  Dole Banana Dippers are a convenient healthy snack for families and an elegant way to serve fruit for parties.  Simply pull from your freezer and enjoy anytime, anywhere! Dole continues to reinvent Frozen Fruit by offering consumers easier ways to incorporate fruit into one's diet – with an  emphasis on quality.  Dole has a variety of other frozen fruits like blueberries and strawberries in cups or bags and ready-cut fruit like strawberries and bananas.  New Dole Shakers are a fun and easy way to make a fruit and yogurt Smoothie for home or on the run. Banana Dippers, Shakers and Dole Fruit can be found in the frozen fruit section of the Frozen aisle.  Dole is committed to bring healthy and delicious product to the market and is your brand for quality and innovation.
GARELICK FARMS NEW TruMoo LOWFAT VANILLA MILK
For a limited time only, Garelick Farms NEW TruMoo Lowfat Vanilla Milk has turned a lucky green color for St. Patrick's Day! TruMoo Vanilla Lowfat Milk offers the same wholesome goodness of regular lowfat TruMoo with a delicious vanilla taste kids love and essential protein, calcium and Vitamins A & D kids need every day. TruMoo Vanilla Milk is made with delicious vanilla flavor, just enough sugar (no high fructose corn syrup) and a lucky green color to add some fun.  TruMoo Lowfat Green Vanilla milk, with a festive St. Patrick's Day label, is only available in Half Gallons through March 17th.  Make St. Patrick's Day Delicious and Nutritious! TruMoo Lowfat Chocolate Milk is available in a variety of sizes: Gallon, Half Gallon, Quart and Single Serve.  Visit
www.TruMoo.com
for more information. Look for Garelick Farms TruMoo Lowfat Vanilla Green Milk in the Dairy aisle.