Winter brings fresh citrus to the store and to your table – during the cold and sometimes gloomy days of winter, the bright smell of lemon or orange can add energy to your day and your recipes! As we also keep an eye on budgets and value, taking advantage of the seasonal abundance of oranges, lemons, grapefruit, limes, tangerines, clementines, mandarins and more, check out these culinary and climate-smart hacks and tips to take your citrus to the max!
Get a smart start – take advantage of seasonal citrus sales, then store them well. Most citrus is fine on the cool kitchen counter for about 5 days, but you risk losing what isn't used up as it dries out and loses quality much beyond that. Some tips to make the most of what is fresh and fabulous:
Wash citrus before prepping or storing. Store in the refrigerator for best shelf life.
Use a zester or micro plane to capture the flavor and fiber benefits of fruit zest. There are so many ways to use it:

Add a teaspoon or two of zest to a small jar of salt or sugar – sprinkle on anything you are looking for a little burst of flavor – liven up leftovers and zip up sweet treats.
Zest and juice fruits and freeze them together in ice cube trays. Once frozen, you can add the juice and zest cubes to water, soups, teas and cocktails anytime.
Freeze whole fruits for zesting and juicing later – store in a freezer bag with as much air as possible removed.
Keep citrus peels from snacks/recipes and let them dry out on a counter or windowsill – they make great fresheners for the sink disposal – last thing you do before you finish cleaning the kitchen!
Slice and dehydrate citrus in an air fryer (check appliance directions) or your regular oven – lay uniform thin slices 1 inch apart on a foil-lined sheet pan, lightly sprayed with oil. Oven temperature should be about 200 °F, time will be 2 – 6 hours, depending on size of fruit. Check out more how-to's and ideas at The National Center for Home Food Preservation.

Beyond the plate – dried citrus fruit and zest is also great to use for decorating, such as festive dried fruit garlands and potpourri.
How about a homemade citrus cleaner? Check out this easy-make method from US Citrus.
Preserved or pickled, easy freezer jams, jellies and spreads -add a dash of the Mediterranean to seafood or poultry recipes with preserved lemons with thyme or oregano, or explore a rosy, luscious Cara Cara orange curd for a special cake, or a beautiful tart decorated with ruby-kissed dried orange slices.
Treat yourself – one of my favorite recipes – overnight oats with fresh or frozen fruit, chia seeds, PICS Greek yogurt and lemon curd.
So many ways to enjoy the winter bounty of citrus our Produce Team has worked to source and bring to your local store – enjoy!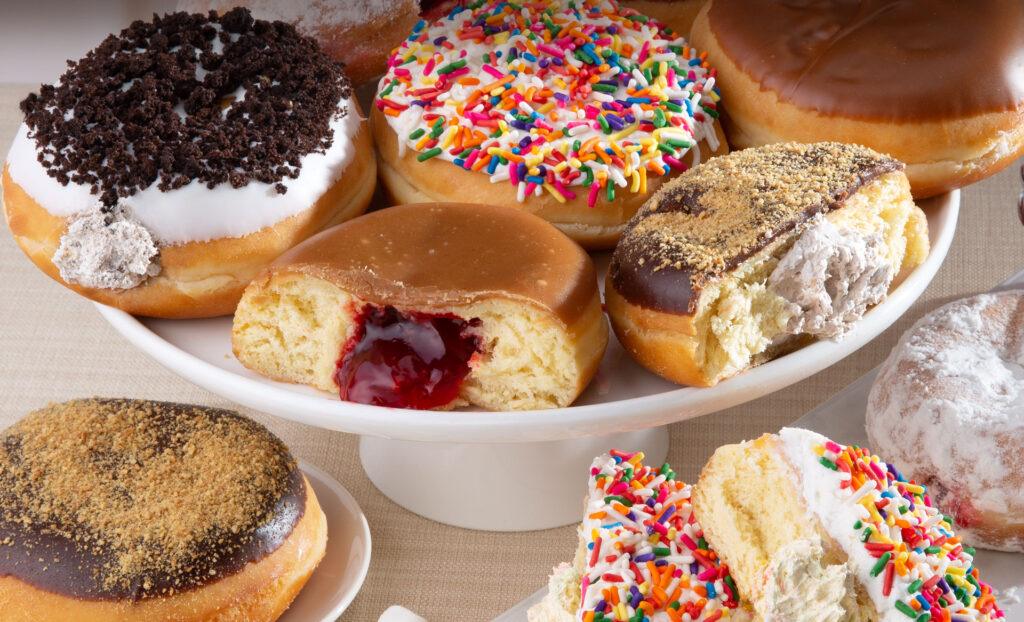 Want to hear something sweet? Paczki are back! We love these Polish treats and they're one of our main sources of happiness following the holiday season, after we've taken our decorations down. Lots of folks enjoy this pastry, but do you know the history behind it?
Fat Tuesday, also known as Shrove Tuesday or Mardi Gras, marks the last opportunity to indulge in tasty sweets and treats before Ash Wednesday, the first day of Lent. It is the final feast before those delicious desserts are given up for Lent. Fat Tuesday is the much-anticipated precursor to Easter, falling 47 days before the holiday each year.
Back in the day, meat and meat byproducts could not be eaten during Lent. Therefore, cooks would use up all their dairy and eggs during Fat Week, from Shrove Thursday to Shrove Tuesday. They made crepe-like pancakes known as nalysnyky in Ukraine, doughnuts called spurgos in Lithuania, krofne in Serbia, and pączki in Poland.
In Poland, Fat Thursday is known as Tłusty Czwartek. The final six days of Carnival season (karnawal) from Tłusty Czwartek to Shrove Tuesday are known as Zapusty. In 16th Century Poland, Paczki were made with bread dough, filled with pork fat and fried in lard. Later, they evolved into a sweet pastry. These sweet treats used to be only available for a short 24-hours once a year on Fat Tuesday, but luckily today most bakeries in the United States and Poland offer these chubby fry cakes the entire Carnival, and even during Lent (shhh!).
In Poland, some bakers fill a few Paczki with almond paste instead of the traditional marmalade, and the person who gets one of these is said to have good luck for the coming year! On the contrary, an old Polish proverb says that those who fail to eat at least one doughnut on Shrove Thursday, will no longer be successful in life…quite the consequence!
Stop by your local store to pick up a Paczki 4 pack, 2 for $7 with AdvantEdge Card in our ad this week! We cherish the opportunity to have a part in this long-valued tradition and we hope you love these sweet pastries as much as we do.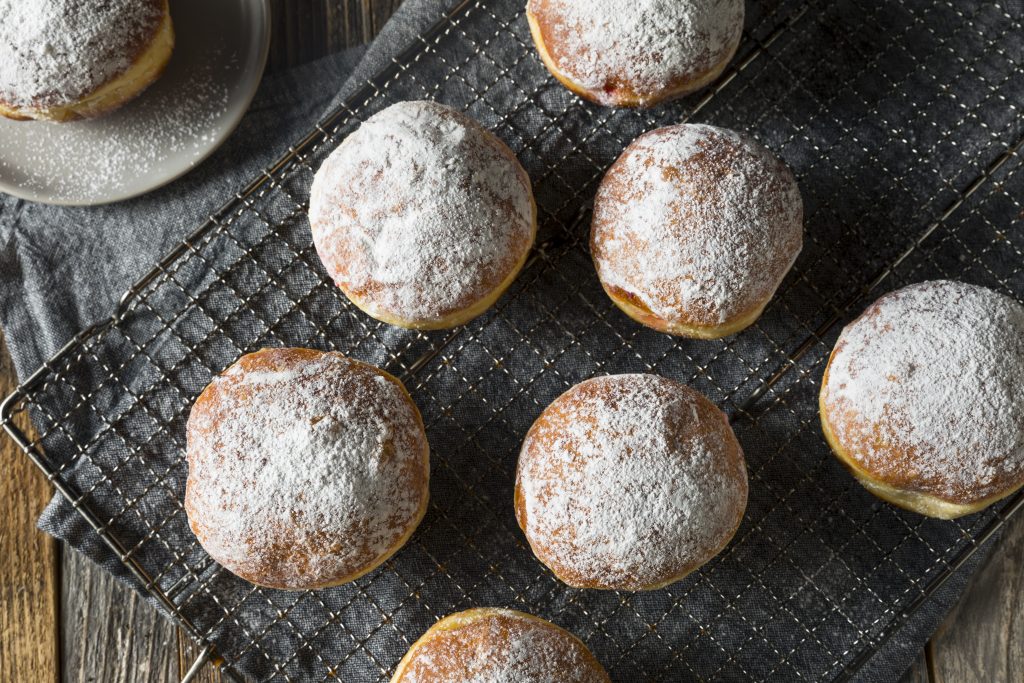 Checking Out - Joseph's Bakery
The Joseph's Bakery story is iconic – Syrian immigrant Joseph Boghos arrived in Lawrence, Massachusetts in 1952. Missing familiar food from home, he began making pita bread in his apartment, intriguing friends and neighbors with the delicious "pocket" bread. Fast forward to today, and three generations have transformed that family recipe into a local company employing 300 + people, making delicious, versatile pita, lavash and more!
Joseph's Bakery Pita, Wraps and Lavash are an innovative combination of a traditional recipe adapted to include better-for-you ingredients that add up to a win-win for you and your family. Whole wheat, ALA omega 3's from fiber-rich, nutty flaxseed, lighter in calories/carbs than many bread items – there is a lot to like! Those unique features mean several Joseph's Bakery items meet the Know Your Colors nutrition guidelines for CarbSmart, Protein Smart and Whole Grains. Joseph's Bakery signature savory flavor and heady, wholesome fresh bread aroma make a tasty and tender foundation for any recipe. The pita is perfectly sized, easy to split open and fill with your favorites – Market 32 Turkey, fresh romaine or tender baby spinach, or sliced Market 32 Fresh Mozzarella, sliced fresh tomatoes, arugula and a splash of PICS Balsamic Vinegar! Versatile Joseph's Pita and Wraps are great for picnics, tailgating, or traveling. Get personal with pita pizzas kids can build themselves at your Friday night pizza buffet or get plant-powered with marinated white bean salad, hummus and veggies, or Mediterranean falafel salad fillings. Yum!
The Lavash is a wonderful base for a cheesy flatbread, thin-crust fruit or veggie pizza, or fun pinwheel appetizer or lunchbox fun favorite. Turn leftovers into new family favorites, like leftover Market 32 rotisserie chicken and cole slaw lavash roll ups – grate some fresh apple or pear into the slaw for a flavor-forward surprise that everyone will love. Joseph's Bakery items are great pantry and/or freezer items to keep on hand for a quick meal or snack. The perfect "secret ingredient", they're just waiting in our Deli display for your inspiration!
BBQ Chicken and Pear Pizza
INGREDIENTS
1 package of Joseph's Flax Lavash
1/3 cup of low fat ricotta
1/2 clove of minced garlic
Olive oil
Sea salt, to taste
1/2 cup of yellow onion chopped
1/4 cup of thinly sliced pears
1/2 cup of shredded chicken
BBQ sauce as desired
Arugula as desired
Ranch dressing as desired
DIRECTIONS
Pre heat the oven to 450°F.
Prepare your ingredients: Mix the ricotta and garlic together in a small bowl. Chop onions and caramelize them in a pan, then set aside. Slice up your pear to make a 1/4 cup. Prepare your shredded chicken and set aside.
Add your toppings: Lay your lavash on a non stick pan, drizzle on olive oil and sprinkle sea salt. Dollop on your ricotta mixture on to your lavash and spread out with a spatula, leaving a little bit of room around the edges. Layer on the caramelized onions and shredded chicken.
Bake your creation in the oven for 4-6 minutes. Let your pizza cool for 1-2 minutes out of the oven.
Drizzle on your favorite BBQ sauce, then add arugula to the top and drizzle on ranch dressing as desired. Cut into slices and enjoy!
California Pita Pocket
INGREDIENTS
1 Joseph's Pita Bread (Flax or White or Wheat)
1/2 Avocado sliced thinly
Your favorite deli meat (turkey, chicken or plant based)
1/2 Tomato sliced thin
A few pieces of romaine lettuce
Desired condiments (mustard, mayo, etc.)
DIRECTIONS
Cut the pita in half through the center of the circle to create two pockets for your sandwich. Warm the pita in the microwave for a few seconds or in the oven if desired.
Add your lettuce, avocado slices, tomato slices, and deli meat. Add in any condiments for extra flavor.
Transfer to plate and enjoy!
10 New Recipes for the New Year
It's that time again, New Year's is approaching! Time to get rid of the old and bring in the new. That's exactly what we are doing with our at-home menus this year. We're game planning some awesome new recipes for the brand new year. After all, there is nothing better than fresh flavors and more delicious dishes. Check out some of our must-tries in 2022.
Bouillabaisse: This year we have seafood at the top of our minds, and this Bouillabaisse recipe is a party for seafood-lovers. Lobster, clams, scallops and more seafood favorites all together in a delicious sauce, your tastebuds will be swimming in flavor.
Popcorn Steak Bites with Buttermilk-BBQ Dip: These Popcorn Steak Bites are delicious and creative. Try them with our amazing Buttermilk-BBQ Dip recipe. Be prepared to have to pass on the recipes to friends.
Squash-Quinoa Cakes with Herb-Yogurt Sauce: We're big squash fans and love to try to use the versatile vegetable in as many recipes as possible. This recipe for Squash-Quinoa Cakes with Herb-Yogurt Sauce is refreshing and perfect for squash-lovers like us.
Tuna Empanadas: Empanadas are a great dish. And in this one, tuna is an excellent change of pace. Perhaps not what you expect to fill an empanada, but this recipe will make you think differently.
Roasted Grape & Goat Cheese Bruschetta: This Bruschetta is the perfect snack or appetizer. A recipe we will be using a lot in 2022. The combination of roasted grapes and goat cheese is mouthwateringly perfect.
Zucchini-Veggie Rolls: Try these Zucchini-Veggie Rolls for a healthy start to the new year. Veggies combined with spreadable garlic & herbs cheese is amazing. We could eat these all day long.
Slow Cooker BBQ Meatballs: Add a twist to your meatballs with some PICS barbecue sauce. Throw some on your meatballs and open up a new world of flavor possibilities.
Grilled Swordfish Kabobs with Peanut-Chili Sambal: These Swordfish Kabobs are fantastic. Plus, the Peanut-Chili Sambal is absolutely filled with flavor. This is an elite combination in our book.
Zesty Layered Hummus Dip: If you're a fan of hummus, we recommend elevating your game with this Zesty Layered Hummus Dip. Olives, cheese, pepperoncini, and much more team up to make this layered dip everything you've dreamed of.
Spicy Caribbean Peel & Eat Shrimp: We've heated up our Argentinean Shell-On Shrimp with jalapeno seasoning, cayenne, red chile pepper, and spiced rum for more flavor. These little shrimps are bold, awesome, and excellent for the new year.  
With 2022 fast approaching we recommend giving all of these recipes a try in the new year. Either way, Price Chopper & Market 32 is your one stop shop for all your New Year's essentials. Visit your local store or check out our online pickup & delivery options.
Happy New Year!
Cozy Cocktails & Beverages for the Holidays
Good drinks and beverages are key to a good celebration. As you continue to celebrate into the New Year, let's get you set up with some fun drink recipes to keep the party going. Check out some of our favorite at-home drink recipes.
Cucumber Mint Mock-Jitos: This refreshing mock-jitos are perfect for sipping on during the holidays. Especially, if you're not looking for an alcoholic beverage. These mock-jitos bring the same essence, alcohol free.
Slushy Punch: This slushy punch features frozen lemonade and orange juice mixed with vodka or gin, with red gelatin for festive coloring. (21+)
Citurs-Basil Spritzer: This Citrus-Basil Spritzer uses sparkling water for a bubbly, refreshing, easy-to-sip on concoction.
Spiced Pomegranate Mulled Cider with Cinnamon Ginger Stirring Spoons: This Spiced Mulled Cider is super tasty and very comforting. The Cinnamon Ginger Stirring Spoons are a fantastic touch.
Bourbon-Cherry Smash: Featuring bourbon, your favorite orange-flavored liqueur and some flavorful additions this Bourbon-Cherry drink will be a smash hit all holidays long! (21+)
Also, make sure to check out this wonderful Blackberry Gin Fizz (21+) recipe below…
Shop More Drinks & Beverages
Holiday Family Breakfast Ideas
One of the best parts of the holidays is taking time off to sit back, relax, and enjoy time with the family. Of course, this includes cooking, baking, and sharing delicious meals. Though much of the holiday food conversation focuses on dinner and cookies, we also want to give holiday breakfast it's proper shine. Check out these awesome breakfast ideas for a full house this holiday season.
Breakfast Panini: Paninis are perfect for any time of day, but we're partial to these breakfast versions.
Sausage, Egg & Cheese Breakfast Sliders: Sausage, egg & cheese sliders are the perfect breakfast holiday option. Bet you can't eat just one.
Open-Faced Breakfast Sandwiches: They say it's what's on the inside that counts, so we concocted this Open-Faced Breakfast Sandwich recipe.       
Spiced-Maple Bacon: Bacon is a breakfast staple, and maple is a must-have holiday flavor. Sounds like the perfect combination.
Buttermilk-Bacon Pancakes with Bourbon-Maple Syrup: Speaking of maple, check out these mouthwatering Buttermilk-Bacon Pancakes with Bourbon-Maple Syrup.
Biscuits & Chorizo Gravy: Chorizo is one of our favorite breakfast options, and this Biscuits & Chorizo Gravy recipe is an awesome choice.
PB & J Stuffed French Toast: Stuffed French toast is another tasty, cozy breakfast meal. Our recipe for PB & J Stuffed French Toast is a great take on the classic.
Shop Breakfast Essentials
Whether you're trying out one of these recipes or cheffin up your own morning masterpiece for the holidays. Price Chopper & Market 32 is your stop shop for all things holiday breakfast. Visit your local store or check us out online!
For more breakfast recipe inspiration check out our recipe page.
Happy Holidays!
Ah coffee, the beloved beverage we rely on for the morning wake up. And one of our favorites for warming up during the cold winter months. It's always there when we need it. But are you using it to its fullest capability?
Coffee is a wonderful holiday ingredient. Not just to drink with cream and sugar, but to include in your dessert recipes, cozy cocktails, and more. This holiday season break out the coffee and take it to lengths you haven't reached before. Here is our guide to coffee as a holiday ingredient!
Spiced Apple Coffee Cake with Pecan Oat Streusel: Apple, pecan, and coffee flavor makes for the perfect holiday dessert to us!
No-Bake Salted Caramel-Toffee Crunch Cheesecake: This fulfilling Salted Caramel-Toffee Crunch Cheesecake might become a new holiday tradition for your and your family!
Chocolate Chocolate Cheesecake: Why have chocolate cheesecake when you could have Chocolate Chocolate Cheesecake?
Mocha-Almond Meringue Cake: Mocha-Almond Meringue Cake is an excellent cozy dessert for the holidays. Nutty mocha-almond flavor combined with Meringue makes for a fantastic duo.
For a cozy holiday cocktail recipe, check out this video for Adult Mocha Milkshakes. Dessert in a glass and jolly for the holidays! 21+ only, we I.D.
Shop Coffee for the Holidays
Great Tasting Chicken Dishes Start with Great Chicken!
Our Market 32 FREE FROM Chicken is produced by Springer Mountain Farms, whose chickens are raised on family farms that are run by second, and even third-generation farmers. Springer Mountain Farms believes in doing things the right way by controlling the process every step of the way, from hatching their own chicks, raising them in houses that are American Humane Certified™ to reduce stress for better flock health, and processing them in their own USDA-supervised facilities. This commitment also extends to the farmers that raise the crops for their feed and allows them to raise their chickens on all-natural, Non-GMO Project Verified feed.
All of their farmers choose to work harder, meet higher quality standards and provide a level of care that's above and beyond acceptable industry practices. Springer Mountain Farms was the first poultry producer in the world to be American Humane Certified™, the oldest and most trusted advocate of animal welfare. If you ask their farmers, why they go the extra mile, they'll tell you it's just the right thing to do…to provide a better quality of life for the animals and a better-quality product for consumers. We agree, and there's no doubt about it: great care means great taste.
Fresh Market 32 Chicken is an excellent source of high-quality protein and is also a lean choice when choosing skinless chicken tenders, thin-sliced cutlets or skinless chicken breasts. Available in a range of cuts and package sizes, you can find the perfect cut for that great recipe
you found on the Price Chopper website! Chicken is one of the most versatile proteins in the store, great for favorite family meals or dressing up for entertaining. Casseroles, soups, salads, sheet pan and skillet meals are all on the menu with Market 32 fresh chicken.
Pick up a pack or two of Market 32 FREE FROM Chicken from Springer Mountain Farms to taste the difference, and visit the Springer Mountain website for for recipe inspiration, like Sheet-Pan Everything-Stuffed Chicken or the recipes below from the Price Chopper website and YouTube channels – delicious, nutritious, fresh and fabulous!
Recipes:
Sheet-Pan Everything-Stuffed Chicken – Market 32 Free From boneless skinless chicken breasts, Neufchâtel cheese, everything seasoning, green onions, broccoli, red potatoes, carrots, red onion, olive oil
Holiday Dinner Ideas - Roasts
Looking for a delicious holiday dinner plan? Well, you've come to the right place. We recommend a festive roast this holiday season. Roasts are perfect for holiday celebrations. Meats, poultry, whichever you prefer, they will keep the whole family merry and full. Plus, they are excellent with the holiday cocktail of your choice.
Check out some our favorite roasts below:
Holiday Beef Roast with Mushroom-Thyme Jus: The holidays are the perfect time for this wonderful Beef Roast topped with a mouthwatering Mushroom-Thyme Jus.  
Herb-Crumbled Beef Rib Roast with Red Wine Gravy: Red Wine Gravy makes this Herb-Crumbled Beef Rib Roast another wonderful option for the holidays.
Brown Sugar Mustard Pork Roast with Sauerkraut: If you prefer a pork roast, we love this Brown Sugar Mustard Pork Roast with Sauerkraut. Packed with flavor and holiday cheer.
Honey-Glazed Roasted Turkey with Lemon-Sage Gravy: Poultry is also a great option and this this Honey-Glazed Roasted Turkey with Lemon-Sage Gravy is a go-to for us. The Lemon-Sage Gravy compliments the roasted turkey beautifully for a lovely holiday dinner.
Take advantage of our ad this week for great prices on roasts. Including Bone-In Strip Roast for $5.99 per lb. and Bone-In Rib Roast for $6.99 per lb.
Check out the video below for more tips & tricks on creating the perfect holiday roast!
Happy Roasting!
How to Build Your Own Charcuterie Board
Charcuterie boards present a thoughtful selection of meats, cheeses and accompaniments that make for low maintenance, snack-style meals. They're perfect for entertaining and encourage mixing and matching of ingredients that create unique, flavorful bites. The art of composing a charcuterie board can be as simple or as sophisticated as you'd like. Use these quick tips to create your ultimate charcuterie board.
Meats
The heroes of the board, charcuterie meats range in taste from mild to spicy and come in varying textures from delicate to thick and chewy. Rich, cured charcuterie meats are excellent in small doses, so choosing two to three meats to feature is sufficient. Try melt-in-your-mouth prosciutto, smoky salami, spicy chorizo or zesty pepperoni.
Cheeses
When selecting cheeses, consider texture, flavor, type and style. Draw inspiration from your meats – mellow out rich meats with soft cheeses like mozzarella, Brie or goat cheese. Pair milder varieties, like prosciutto, with complex cheeses that have eclectic profiles such as pungent blue cheese or sharp Manchego.
 Fruits & Preserves
Seasonal eating applies to boards too! Sliced fresh fruit and berries are perfect for summer boards while winter boards give citrus, grapes and dried fruits a place to shine. No matter the season, our home.grown. produce offers the freshest, locally sourced, in-season fruits year-round. For a spreadable, fruity component, give our Pear Mostarda recipe a try!
 Bread & Nuts
Slices of toasted bread or assorted crackers can balance the tastes of your board's strongly flavored ingredients. Nuts can also intensify the crunch factor. Use shelled and salted varieties such as pecans, hazelnuts, pistachios and almonds. 
The best charcuterie platters have a little bit of everything – so don't be afraid to get creative and experiment with different components. For more charcuterie inspiration, see page 30 of our Ready magazine!
Shop Charcuterie Essentials