Written by Jane Golub Director In-Store Marketing Programs November 4, 2018
Fresh Express Saute Kits
Fresh Express Saute Kits are delicious, chef-inspired hot vegetable dishes that are ready in under three minutes.  Available in four varieties, Fresh Express Saute Kits let you choose your own adventure by offering a blend of exciting fresh vegetables along with delicious sauces like lemon garlic, teriyaki, lemon pesto and apple cider in a range of savory and complementary flavor combinations. These new Saute Kits fill a void for people who find their vegetables to be routine,
unexciting and lacking flavor due to time constraints or being intimidated to cook vegetables themselves. Whether with shrimp or pairing with chicken, Fresh Express Saute Kits make it easier than ever to eat more flavorful, fresh cooked vegetables, offering an easy way to create hot meals your whole family will enjoy.  New Fresh Express Saute Kits are chef-tested and approved to ensure that consumers have the exciting, flavorful sautéed vegetables that they typically only find in restaurants in their homes. Look for easy to prepare flavorful fresh cooked vegetables in the Fresh Vegetable section of the Product Department. Written by Jane Golub Director In-Store Marketing Programs November 4, 2018
Crest Gum Care Mouthwash
A healthy mouth starts with healthy gums.  This new product is formulated to neutralize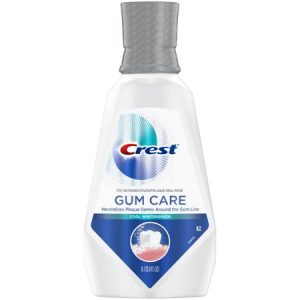 harmful plaque bacteria even below the gum line to help reverse early gum disease and the issues that come with it. A minty alcohol-free freshness that neutralizes harmful plaque bacteria and reduces bleeding gums.  For healthier gums, use the Fresh Gum collection to neutralize hidden plaque bacteria and help reserve early gum damage. Look for Crest Gum Care Mouthwash in the Dental Care aisle.