Healthy, sweet and delicious – that's one way to describe our fruit platters and fruit trays.
When you order fruit platters for parties, you're showing attention to the finer details of entertaining. Fresh fruit platters add color and variety to your table and are great for every occasion from birthdays to baby showers. Choose from our Fruit Sampler, Party Fruit Bowl and Fresh Cut Fruit Platter. And for veggie lovers, don't forget our popular Vegetable Tray.
Adds the perfect touch to any occasion. Choose from a mixture of the season's best fruits, always sweet and fresh. Available in-store only.
A wonderful addition to any brunch or luncheon. Includes fresh pineapple, cantaloupe, honeydew, strawberries and red grapes. Available in-store only.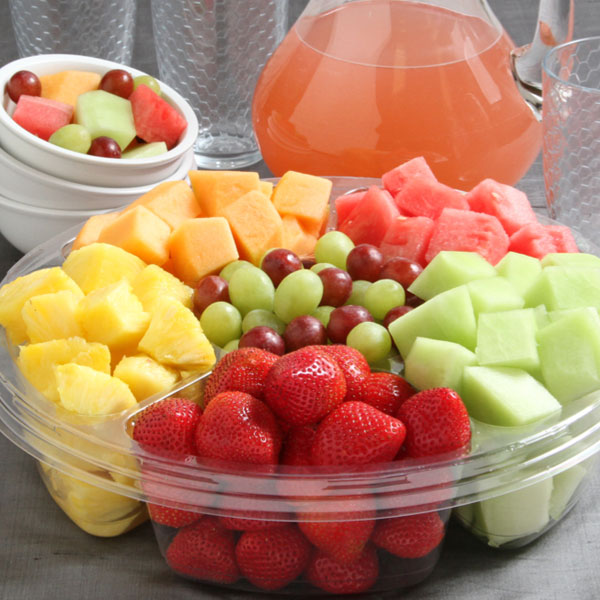 Add your favorite chocolate fondue to create a wonderful dessert made with the freshest fruits, such as grapes, strawberries, pineapple and ripe juicy melon.
Pick Up a Fruit Tray in a Store Near You
Ordering fruit and vegetable platters online from Price Chopper and Market 32 is a fresh idea. Skip expensive catering and order fruit and vegetable platters from a store near you! Spend less time preparing and more time with your friends, family and guests. You'll be happy you did – but to make sure, we suggest:
Plan all the details of your party well in advance.
When ordering fruit or vegetable platters, place your online platter order at least 3 days in advance.
Schedule a time to pick up your fruit or vegetable platter order when you complete your order.
Please note fruit and vegetable platters are not eligible for grocery delivery.
Enjoy Your Party More with Our Party Platters
We offer more than 40 different party platters, including meat and cheese platters, seafood and shrimp platters, dessert, pastry and cookie platters, vegetable and fruit platters, bagel and breakfast platters, fruit baskets, sheet cakes, pies and more. We prepare it all for you so everything is ready to pick up on the day of your event.