Assorted Halloween Cupcakes
1 vanilla boxed cake mix
1 tablespoon green decorating sugar
Orange food coloring
Yellow food coloring
Cupcake liners
Preheat the oven to 350 degrees.
Mix cake batter as directed on the box. Divide batter into thirds.
Fill four lined muffin tin cups with the plain vanilla batter until almost full. 
Stir 1 tablespoon of green decorating sugar into 1/3 of the batter and stir until it turns green. Fill four of the lined muffin tin cups.
Divide the remaining 1/3 of the batter into thirds again. Add yellow food coloring to one portion, orange food coloring to another portion, and stir. Fill the remaining four lined muffin cups with a layer of yellow batter, followed by a layer of orange batter, and finally the remaining vanilla batter, to create a candy corn affect.
Bake 20-25 minutes and let cool completely
4 vanilla cupcakes
3.3 oz white chocolate pudding
1 cup milk
4 oz. PICS frozen whipped topping, thawed
8 PICS mini chocolate chips
Stir the pudding and milk together until it thickens. Fold in whipped topping. Put aside enough to frost the top of the four vanilla cupcakes. Place the rest of the mixture into a snap and seal lunch sized bag and clip the corner to create a piping tool.
Use an apple corer (or ??) to create a hollowed center in the cupcakes. Pipe the whipped topping into the center, then frost the cupcakes with the topping put aside. Pipe more whipped topping on top of the cupcakes, like a vanilla ice cream cone, to create ghosts. Add two mini chocolate chips as eyes.
4 green cupcakes
Green frosting
12 pieces black licorice twists
8 Large candy eyes
Using a star tipped tool, pipe the green frosting in dollops onto cupcakes, creating a bumpy texture.
Add two large candy eyes to each cupcake.
Cut each black licorice twist in half and then carefully score in the middle with a sharp knife so that the twist can be bent to create legs. Push legs into each cupcake.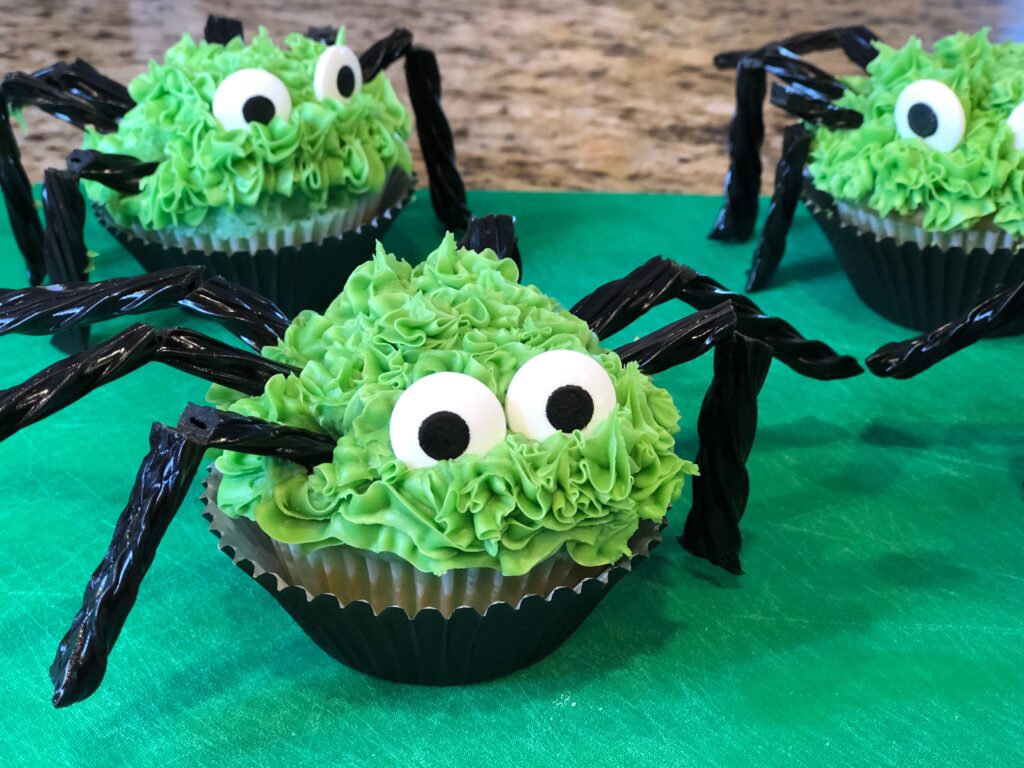 4 vanilla cupcakes
4 tablespoons PICS butter, room temperature
2 ½ cups PICS confectioner's sugar
1 ½ teaspoons PICS vanilla extract
3 tablespoons PICS milk
8 large candy eyes
Candy corn
Using an electric mixer, whip butter, confectioner's sugar, vanilla extract and milk in a bowl.
Frost cupcakes, add two large candy eyes, and place candy corns on top, creating a  spiked affect.
More on Making These Cupcakes
Swap the Oil:  Use 4 oz. of PICS unsweetened applesauce.
Eliminate the Eggs:  Swap out the eggs with ¼ cup of PICS plain Greek yogurt.
Gluten and Dairy Free Options:  Price Chopper and Market 32 have a variety of alternative cake mix options located in either the baking or allergen friendly aisles.
Make a Whole Dozen:  To make a complete dozen of one of these variations, simply triple the directions for the selected cupcake.
Beetle Juice, Beetle Juice, Beetle Juice!  After you sip on this yummy blend you will definitely be calling out beetle juice three times.
It's a fruity drink with just the right amount of fizz that's fun and festive, but incorporates fresh, healthy ingredients . 
Beetle Juice by Jodie Fitz
4 cups ice
2 lemons, fresh
2 cups water
½ cup PICS honey
½ cup PICS fresh frozen mixed berry medley
1 teaspoon PICS vanilla extract
1 teaspoon raspberry extract
Triple berry seltzer
PICS Raspberry sherbet (optional)
Cut the lemons in half. Squeeze the lemon juice from the lemons.
Note: If you have a citrus juicer simply squeeze the juice right into a blender pitcher. If you have to squeeze by hand, squeeze the juice into a glass or bowl first so that you can remove any seeds with a spoon before adding the juice to the blender.
Add the ice, lemon juice, water, honey, frozen mixed berry medley and extracts into the blender. Blend the ingredients together well.
Depending on the size of the glass, add 1 to 2 tablespoons of the triple berry seltzer to add fizz to the mix. Fill the rest of the glass with the blended fruit mixture.
The kids!  Remember there are always valuable lessons to learn in every recipe.  Here are a few with Beetle Juice…
Blending
Blender safety
Measuring ingredients
Following Directions
Extracting juice from lemons
Exploring healthier alternatives
The Brains!  If you want to add a little dessert style fun add sherbet brains to the mix.  If you want to keep it healthier, freeze some of the beetle juice without the seltzer in ice molds of either brains or bugs and add them to your finished drink before serving.
Basic Witch Hat with Homemade Chips
Looking for a healthy Halloween nosh?  Look no further.  Check out these festive homemade witch hat chips served with an orange Pico de Gallo salsa.  The entire combination is total yum!
Basic Witch Hat Homemade Chips by Jodie Fitz
1 package of cedar spinach wraps
1 witch hat cookie cutter
2 tablespoons PICS canola oil
PICS Sea salt
Nonstick cooking spray
Place the spinach wraps, one at a time, on a cutting board. Use a cookie cutter to cut out witch hat shapes.  Each cedar wrap should yield approximately 8 hats depending on the size of your cookie cutter.
Preheat the oven to 375 degrees.
Coat a nonstick baking sheet with the nonstick cooking spray.
Baste each hat lightly with the canola oil and then sprinkle them with sea salt.
Bake them for 5-7 minutes until the edges start to toast. Let them cook completely to finishing the crisping process.
Lessons and life skills to focus on when making this recipe with the kiddos: 
Basting
Baking
Oven safety
Following directions
Homemade Pico de Gallo Salsa by Jodie Fitz
2 orange heirloom tomatoes, small
1 orange bell pepper
½ cup sweet onion, finely diced
1 small clove of garlic, minced
4 tablespoons fresh chopped cilantro
1 tablespoon PICS balsamic vinegar
Wash the tomatoes.  Remove the top and bottom of the tomatoes.  Slice the tomato and dice the tomato into small pieces. 
Wash the bell pepper.  Remove the top, seeds and insides of the peppers.  Slice and dice the pepper. 
Stir the diced tomatoes, the diced bell pepper, diced sweet onion, chopped cilantro and balsamic vinegar together.
Serve with your homemade witch chips.
Lessons and life skills to focus on when making this recipe with the kiddos: 
Dicing
Knife safety
Mincing
Chopping
Stirring
Following directions
Measuring ingredients