From the Heart of New York State - Chobani Powers Your Plate!
Greek yogurt – a delicious, versatile food made with centuries-old tradition, now supporting farms and farmers in many local communities, affordable, sweet or savory, perfect to pair with fruits, veggies, nuts, granola, and to serve as dips, smoothies, power bowls and snacks –  all while bringing the benefits of flavor and texture, probiotics, protein and nutrients to the occasion. It is hard to name another food like it!
Chobani Yogurts, literally made in the heart of New York State, have been central to helping so many understand, explore and enjoy the benefits of Greek yogurt. Several years ago, the Nutrition Team from Price Chopper was invited to the Chobani headquarters, to learn about the company and the many ways they work on creating quality. It was a great experience – we started at one of the local dairy farms and followed that fresh milk from cow to cup! Chobani brought a former cheese facility back to life and helped energize a food-tastic phenomenon! 
Low fat dairy is considered a nutrient dense food – milk is a nine-nutrient package and supplies several nutrients that children and adults alike need to increase, including potassium and calcium. Low fat dairy is also one of the food groups recommended to be included in heart healthy lifestyles by the American Heart Association, and is also supported by the 2020-2025 Dietary Guidelines for Americans, (https://www.DietaryGuidelines.gov) with emphasis on fat- free and low fat dairy, about 3 servings per day, and attention paid to managing added sugars.
How can Greek yogurt power up your plate? On the American Heart Association website, check out Banana Bread with Greek Yogurt or try this one for muesli, another traditional food, Muesli, and serve with Chobani Fat Free Greek Yogurt. If you are looking for an easy way to add protein, Greek yogurt can have as much as 20 grams per cup! That protein can help keep you and yours full and focused on busy mornings, or satisfy a snack attack (and get one of those 3 recommended servings) between meals in the afternoon.
Another power pairing is Chobani Greek Yogurt and Market 32 Walnuts. Add some fresh or frozen PICS berries, and you have a delightful parfait, creamy, crunchy, nutritious and delicious. We have made this magic easy for you, with a Buy Market 32 Walnuts, get $1 off 32 Oz. containers of Chobani Greek Yogurts, including Chobani 0% Plain Yogurt, Vanilla and Strawberry. Check out the special Market 32 Walnuts display in the Produce section to get the offer and bring home this combo to power your plate!
Written by Jane Golub Director In-Store Marketing Programs August 27, 2017
NESTLE SKINNY COW GREEK FROZEN YOGURT
Indulge in Skinny Cow Frozen Treats and Skinny Cow Chocolate Candy.  You'll find happiness in every mouthful.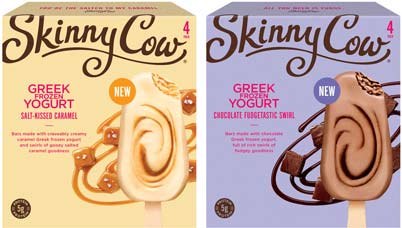 You can find two Skinny Cow Frozen Yogurt Bars at Price Chopper!  Salt Kissed Caramel bars are made with craveably creamy caramel Greek Frozen Yogurt and swirls of gooey salted caramel goodness.  Each bar contains 5g of Protein and is only 100 Calories per serving.  The second, Chocolate Fugetastic Swirl bars are made with chocolate Greek Frozen Yogurt, fill of rich swirls of fudgy goodness!  Each bar contains 5g of Protein and has 110 calories per serving! You'll find both of these delicious Frozen Yogurt treats in the Frozen Novelty Ice Cream Section.  Look for Skinny Cow Chocolates in the Candy aisle.