Happy Hydrating with 2Natural Blends!
Ellie Wilson, MS, RDN Senior Nutritionist
Water is essential – we cannot live without it. Our bodies feel and function best when well-hydrated, and water is the top pick to meet that need. We also need water to support good performance in sports or any physical activity. But, we struggle to stay hydrated – busy and distracted, whether working or playing – dehydration sneaks up on us, and is not easy to detect. Have you ever felt fatigued mid-afternoon even though you rested well the night before? Dehydration is often the culprit. Children are particularly vulnerable – and younger ones often uncooperative with parent efforts. Adding fruit can inspire better water intake.  Cutting fruit up, finding a container that keeps the fruit in and lets the water out, making it easy to grab and go – those were tougher problems to solve, until a mom from upstate New York put it all together. Denise Wist tapped into a natural spring in her small town of Morris; invented a special recyclable bottle; and infused the spring water with cut fruit. Now a woman-owned business, 2Natural Blends infused spring waters deliver a fresh take on healthy beverages. Busy moms, anyone looking for hydration options that are calorie-free or no added sugar will love exploring flavors like lemon-cucumber and pineapple-mango. Simple water, with a twist! We love supporting exciting, Northeast-based food business and we are happy to be the first retailer to share these fun refreshers! When it's made or grown here, we get it here. Learn more at
http://2naturalblends.com/
, and if you're in the Oneonta area, sample each of 2Natural's unique blends at our Oneonta store, every Saturday in April from 11am-2pm! Written by Jane Golub Director In-Store Marketing Programs January 7, 2018
GoGo Squeeze Gimme Five
At GoGo Squeeze, quality is at the heart of everything they do.  They source all of their fruits and veggies from evolved farms that use only the best practices to grow and harvest.  Their pouches are made with nothing but real, fresh fruit and veggies and a splash of juice.  Their proprietary manufacturing process can get an apple into a pouch in about an hour.  There is no added sugar, no HFCs and no other added color or flavors. GoGo Squeeze products are vegan and have been certified as GMO-free by the
non-GMO project, North America's only independent verification for products made according to best practices for GMO avoidance.  They made applesauce on the go, yogurt on the go and Fruit and Veggies on the go – all packaged in convenient pouches that are sold in 4 packs, 12 packs and 12-pouch variety packs. You can find all the GoGo Squeeze products in the Canned Fruit aisle. Written by Jane Golub Director In-Store Marketing Programs October 15, 2017
DOLE ORGANICS
                After 167 years of trusting DOLE, fall in love with new refreshing DOLE Organic Frozen Fruit. DOLE's family tradition is simple – bring the sweetest juiciest sun-ripened fruit from the farm to your home – so that you can nourish your family with the best that nature has to offer. 
For over four generations, DOLE has been committed to the environment, their growers and the communities in which they operate.  To learn how, please visit doleintlcsr.com. DOLE Organics are available in the following varieties: Pineapple Chunks Blueberries Strawberries Mango Chunk Look for Dole Organics in the Frozen Fruit section of the Frozen Food aisle. Written by Jane Golub Director In-Store Marketing Programs October 8, 2017
DOLE ACAI BOWLS
 Introducing Acai Bowls from DOLE, a frozen acai blend topped with tangy fruit and crunchy granola. With three delectable flavors and non-GMO ingredients, it's a light and refreshing snack you can take anywhere.  Just grab, go and enjoy!
ORIGINAL
Taste the refreshing blend of acai, bananas and honey topped with strawberries, blueberries, honey oat granola and coconut.  With only 210 calories, it's the perfect snack for any time of day.
PROTEIN
The Protein variety blends acai, bananas, honey and almond butter and is topped with pineapple, blueberries, honey oat granola, protein crisps and almond bits.  It packs 5 grams of protein with only 230 calories for a tasty pick-me-up.
TROPICAL
The Tropical variety starts with a blend of acai, bananas, honey and dragon fruit.  It's topped off with kiwi, mango, honey oat granola and coconut for a light and refreshing snack that's only 220 calories. For more information go to:        dolesunshine.com/acai Look for Dole Acai Bowls in the Frozen Fruit section of the Frozen Food aisle. Written by Jane Golub Director In-Store Marketing Programs July 30, 2017
N.B.T.F. Nothing But The Fruit Real Fruit Bites
N.B.T.F. Fruit Bites
are made with
100% Fruit
picked, pureed & pressed into delicious bites for a convenient way to get
one full serving of fruit
on-the-go.  They're
Non-GMO, vegan
and
gluten-free
with NO refined sugar, corn syrups, artificial preservatives, fillers or waxes. Here at
N.B.T.F.
, they're determined to find new ways to enjoy nature's perfect food – FRUIT!  They blend, mix and experiment and sometimes they come up with something truly fruitful – like their Real Fruit Bites.
N.B.T.F.
is proud to be a part of the National Grape Cooperative – 905 American family farmers who grow sustainable farmed Concord and Niagara grapes.  These grapes contain antioxidant plant nutrients called
polyphenols
– that's why they put them in all their fruit bites – it's polyphenol power!
Real Fruit Bites
are the perfect balance of sweet & tart.  Look for N.B.T.F. Fruit Bites in the Fruit Snack aisle.  Flavors: Concord Grape, Raspberry Chia and Mixed Berry – 5 pouches per box. Written by Jane Golub Director In-Store Marketing Programs July 23, 2017
DEL MONTE FRUIT & CHIA CUPS
Introducing Del Monte Fruit & Chia Cups from the Del Monte Foods Company
The only Chia snack made with chunks of delicious real fruit Nutritious snack with 800mg of Omega 3's and a good source of fiber No artificial flavors or high fructose corn syrup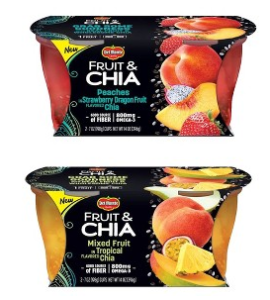 4 great tasting varieties in single serve cups Single serve fruit continues to grow, driven by consumer meaningful innovation and fueled by healthy snacking. Fruit & Chia Cups are nutrient packed with 800mg of Omega 3's, 4g of Dietary Fiber and Antioxidant Vitamins A & C. Chia products are growing much faster than non-Chia products at a current 66% growth rate. Available in 4 flavors: Peaches in Strawberry Dragon fruit flavored chia, mixed fruit in tropical flavored chia, Pears in Blackberry flavored chia and Mangos in pineapple flavored chia. Look for all varieties of Del Monte Fruit & Chia Cups in the Canned Fruit aisle.
February is American Heart Month, and we are inspired to enjoy some delicious recipes that showcase pears. Winter fruit intake is so important to heart health, especially fruit in season – pears fit the bill. Certified by the American Heart Association, pears add Vitamin C and fiber to your heart smart cart, and complements so many foods. A little history – pears have long been lauded for their sweetness – the description "gift of the Gods" was coined in Roman times. Pears were excellent travelers, and made their way around the world on traditional travel routes. In America, they landed on the Eastern shores and then made their way via the Lewis and Clark trails to the Pacific Northwest. Pear production in those states is over 550,000 bushels per year, and the pear is officially Oregon's state fruit. Pears have had some excellent research show they are a very good choice for vascular health – pears, along with other white-fleshed produce, were shown to reduce risk of stroke in the Women's Health study. Stroke 2011;42:00-00 The median intake of white-fleshed produce, including pears, apples, and vegetables, showed that each increase of 25 grams (over base intake of 118 grams per day) lowered risk of stroke by 9%. Powerful results! Enjoy some wonderful winter recipes that include pears – check these out, and find more at the USApears.org website. Remember to check the neck for slight give – that shows it is ripe for a delicious snack or recipe.
http://usapears.org/recipe/hearty-oatmeal-with-pears/
http://usapears.org/recipe/tangy-pear-and-cabbage-slaw/
Written by Jane N. Golub Director In-Store Marketing Programs
CLOROX SMART SEEK BLEACH
Never fear colorful stripes, prints and patterns on white garments again.  Clorox Smart Seek Bleach whitens mostly white and solid white garments.  It is specially formulated to get whites white, but leave the colors alone; therefore mostly whites and solid whites can be combined and cleaned in the same load.  Unique technology delivers just enough power to remove stains and whiten white parts of garments, yet is color safe on most striped white, patterned white and screen printed whites, when used as directed.
Things to avoid: wool, silk, mohair, spandex, nonfast colors, solid colors (including cream and off-white colored solids) and colored fabrics.
Visit Clorox.com for money saving coupons and to find out "what is a mostly white".
Look for Clorox Smart Seek Bleach in the Laundry aisle.
DOLE FRUIT & VEGGIE POWER SMOOTHIE SHAKERS
Dole Fruit & Veggie Power Smoothie Shakers are a premium line of all natural fruit & veggie smoothies fortified with the goodness of delicious Greek Yogurt with pre- and probiotics, popular vitamin boosts and no artificial coloring.
All Dole Fruit & Veggie Power Smoothie Shakers are 180 calories and have 5 grams of protein.  They are easy to make and convenient.
Dole Blue Power Shakers contain Vitamins B6, B12 and Folic Acid.  It is made from Blueberries, Bananas and Red Beets.
Dole Red Power Shakers contain Vitamins A & E.  It is made from Strawberries and Raspberries with Red Beets and Purple Carrots.
Dole Yellow Power Shakers contain Vitamin C.  It is made from Pineapple, Mangoes and Sweet Potato and Carrots.
Look for Dole Fruit & Veggie Power Smoothie Shakers in the Frozen aisle next to the Frozen Fruit.
Written by Jane N. Golub Director In-Store Marketing Programs
GARELICK FARMS LIMITED HOLIDAY ITEMS
Garelick Farms TruMoo Lowfat Chocolate Peppermint Milk has the delicious chocolaty taste of regular TruMoo with a hint of refreshing peppermint flavor.  TruMoo Lowfat Chocolate Peppermint milk is also nutritious as it starts with lowfat white milk from Garelick Farms and is packed with calcium and vitamins A & D!  Warm it up for hot cocoa with a peppermint twist! Garelick Farms Holly Nog is a creamy egg nog flavored beverage perfect for any holiday gathering.  Garelick Farms Holly Nog starts with Garelick Farms reduced fat milk and has fewer calories than regular egg nog. The Garelick Farms Limited Holiday Items are sure to win over kids and adults alike!  Try both TruMoo Lowfat Chocolate Peppermint Milk and Garelick Farms Holly Nog while supplies last. Visit
www.GarelickFarms.com
for more information.
POM WONDERFUL BLENDS
More Americans were introduced to pomegranate products last year than any year in history.  POM Wonderful 100% Pomegranate Juice is the nation's best-selling
pomegranate juice and helped kick off the country's pomegranate craze more than a decade ago.  POM Wonderful is launching new blends to complement its pure pomegranate juice with delicious flavor varieties that appeal to the whole family. POM Hula evokes an off-the-map beach getaway with a mix of pomegranate, pineapple and organic apple juice.  POM Mango offers a delectable mix of pomegranate, mango and pear juice.  POM Coconut mixes pomegranate juice, coconut water and pineapple juice. The new blends slip POM's iconic curved bottle into eye-catching tropical graphics in a convenient 12 oz. size.  POM Hula shimmies into a green grass hula skirt, POM Coconut pairs POM's signature red wrap with white coconut and green leaves, while POM Mango features a splash of yellow with green leaves. Look for POM Wonderful Blends in the Produce Department.
Written by Tyler Blance- Produce Merchandising
Local Produce in our Brand New Marshalls Creek Store!
    Last week, we cut the ribbon and opened the doors of our brand new store in Marshalls Creek Pennsylvania, built in the beautiful countryside southeast of Scranton.  Our Marshalls Creek store is chock full of unique items and local products, but one thing we are particularly proud of providing for our Marshalls Creek chopper shoppers is local fruits and vegetables.
Journeying through the produce department of this rural PA store, shoppers are presented with a variety of fresh, local produce from nearby areas.  A. Gurda Produce, a local grower in the Middletown, NY area happily supplied us with their beautiful locally grown lettuces and radishes straight from the farm.  Andy Gurda's crops are grown in what's known as the "Black Dirt Region" of New York State; the dark, rich soil was created at the end of the Ice Age!  Talk about a throwback. Marshalls Creek is a short drive away from the "Jersey Fresh" produce of the garden state: New Jersey.  We featured a variety of Jersey Fresh items for our shoppers to explore: Blueberries grown under the popular "Top Crop" name, basil, green and yellow squash and cucumbers straight from Jersey were all on display in our colorful, freshly-stocked produce department.  And to top it all off, we had a special visit from Top Crop's own blueberry mascot and a member of the Donio farm operation!
Locally grown produce is something we take a lot of pride in supplying throughout the communities and areas we're a part of, so we were happy to add Marshalls Creek into the mix.  As for the rest of our Chopper Shoppers, the local produce season is coming into full swing, so keep an eye out for locally grown fruits and vegetables in your neighborhood Price Chopper!  I'll be updating you throughout the summer with locally grown happenings, so check back to see what's
growing
on near you!