Food Ideas for the Perfect Mother's Day
Mothers, grandmothers, and even aunts are the backbone of every family. They keep things together and are always there when you need them. That's why we are excited for Mother's Day, to show a little bit of appreciation to the amazing moms in our lives. This year we're showing that love the only way we truly know how, with some quality food. Check out our ideas!
Breakfast in Bed: On Mother's Day, the food gifts start early. Make sure to let mom sleep in and surprise her with a delightful breakfast in bed. It's the best way to wake up and a great way to start a day of celebrating her!
Surf & Turf: For dinner, surf and turf is an excellent option. Choose from our selection of Certified Angus Beef Strip Steak, Chiappetti Australian Lamb Loin, Market 32 Lobster Tail and Raw Shrimp, and more.
Sweet Treats: Finish it off with some sweet treats! We offer a variety of shortcakes, cheesecakes, or chocolate dipped fruits that mom will love. Or choose from a handful of dessert recipes!
Assorted Halloween Cupcakes
1 vanilla boxed cake mix
1 tablespoon green decorating sugar
Orange food coloring
Yellow food coloring
Cupcake liners
Preheat the oven to 350 degrees.
Mix cake batter as directed on the box. Divide batter into thirds.
Fill four lined muffin tin cups with the plain vanilla batter until almost full. 
Stir 1 tablespoon of green decorating sugar into 1/3 of the batter and stir until it turns green. Fill four of the lined muffin tin cups.
Divide the remaining 1/3 of the batter into thirds again. Add yellow food coloring to one portion, orange food coloring to another portion, and stir. Fill the remaining four lined muffin cups with a layer of yellow batter, followed by a layer of orange batter, and finally the remaining vanilla batter, to create a candy corn affect.
Bake 20-25 minutes and let cool completely
4 vanilla cupcakes
3.3 oz white chocolate pudding
1 cup milk
4 oz. PICS frozen whipped topping, thawed
8 PICS mini chocolate chips
Stir the pudding and milk together until it thickens. Fold in whipped topping. Put aside enough to frost the top of the four vanilla cupcakes. Place the rest of the mixture into a snap and seal lunch sized bag and clip the corner to create a piping tool.
Use an apple corer (or ??) to create a hollowed center in the cupcakes. Pipe the whipped topping into the center, then frost the cupcakes with the topping put aside. Pipe more whipped topping on top of the cupcakes, like a vanilla ice cream cone, to create ghosts. Add two mini chocolate chips as eyes.
4 green cupcakes
Green frosting
12 pieces black licorice twists
8 Large candy eyes
Using a star tipped tool, pipe the green frosting in dollops onto cupcakes, creating a bumpy texture.
Add two large candy eyes to each cupcake.
Cut each black licorice twist in half and then carefully score in the middle with a sharp knife so that the twist can be bent to create legs. Push legs into each cupcake.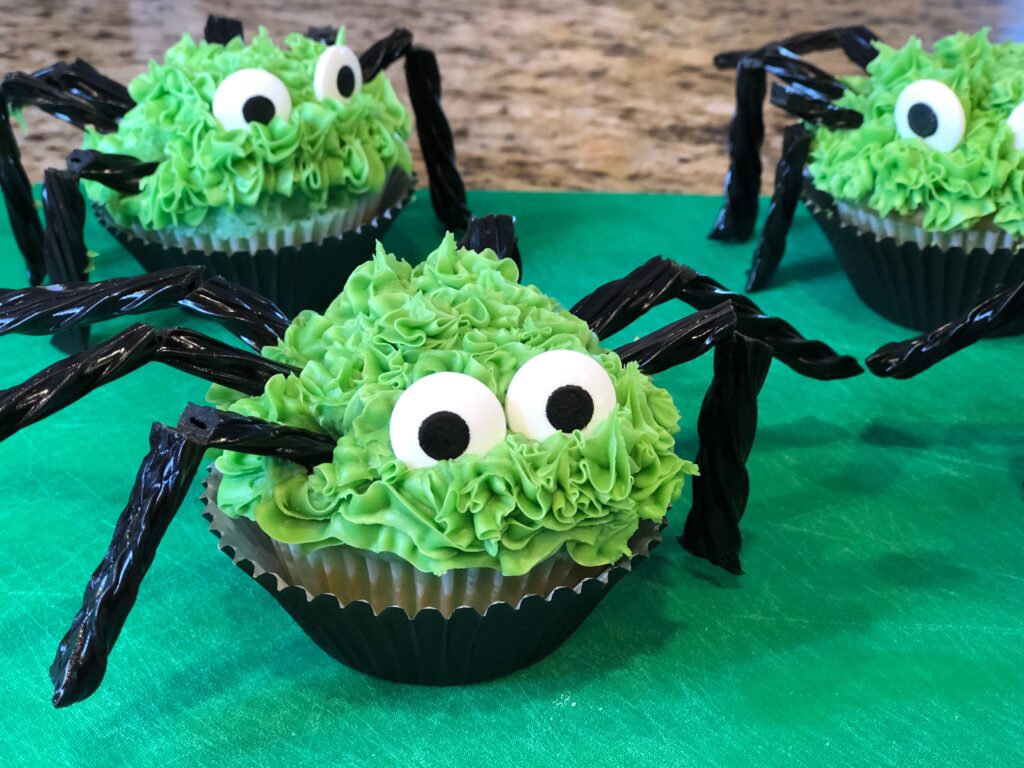 4 vanilla cupcakes
4 tablespoons PICS butter, room temperature
2 ½ cups PICS confectioner's sugar
1 ½ teaspoons PICS vanilla extract
3 tablespoons PICS milk
8 large candy eyes
Candy corn
Using an electric mixer, whip butter, confectioner's sugar, vanilla extract and milk in a bowl.
Frost cupcakes, add two large candy eyes, and place candy corns on top, creating a  spiked affect.
More on Making These Cupcakes
Swap the Oil:  Use 4 oz. of PICS unsweetened applesauce.
Eliminate the Eggs:  Swap out the eggs with ¼ cup of PICS plain Greek yogurt.
Gluten and Dairy Free Options:  Price Chopper and Market 32 have a variety of alternative cake mix options located in either the baking or allergen friendly aisles.
Make a Whole Dozen:  To make a complete dozen of one of these variations, simply triple the directions for the selected cupcake.