Tips for A Happy and Food Safe Halloween
BOO! Here it comes again, the official (unofficial) holiday of Halloween! There is no doubt, it is beloved by children and adults alike. The costumes, decorations and freaky/fun tricks and treats are wickedly delightful for those who participate before colder weather changes activity opportunities. To ensure it is fun for everyone, set expectations – your goblins and ghouls should know the food safety rules ahead of time to set the stage for happy smiles versus scowls and howls. Here are some 'tricks" for caregivers hoping for a howling good time!
Eat before you go out – some great Halloween treat ideas to set the stage are right here (with spooky music!) on Price Chopper YouTube and Pinterest boards. That will make it easier to create the plan that parents/guardians must check items before eating. We have treats for adults too – pumpkin everything and fall favorites to fuel your fun.
Children should be taught/shown not to accept treats that aren't commercially wrapped. Throw away anything that is torn, has pinholes, or looks unusual in any way. Fresh fruit, if accepted, should be carefully checked and washed before eating.
If your child has a food allergy, you already know that treats are tricky. Verify Epi-pens are not expired and are readily available. Always check the labels of each item. Some homes may have a teal-colored pumpkin to signal they have some treats without some allergens, but adults must still check the individual items before eating. The same goes for gluten free candy – The Celiac Disease Foundation has published their 2022 Gluten Free Halloween Candy list – you can download and print the pdf here.
Ages and stages – some candies are choking hazards for smaller children. Gum, hard candies, peanuts and even small toys could be a concern.
How much and how often should be part of the plan – a national poll shows 78% of parents plan for about two pieces of candy per day. That helps children learn candy can be part of eating well.
Flashlights, candy, party supplies and more are all at your local store and online waiting for you to create a "monster" good time. Happy Halloween!
BWAH HA HA HAAAAA!!!!!!!
Assorted Halloween Cupcakes
1 vanilla boxed cake mix
1 tablespoon green decorating sugar
Orange food coloring
Yellow food coloring
Cupcake liners
Preheat the oven to 350 degrees.
Mix cake batter as directed on the box. Divide batter into thirds.
Fill four lined muffin tin cups with the plain vanilla batter until almost full. 
Stir 1 tablespoon of green decorating sugar into 1/3 of the batter and stir until it turns green. Fill four of the lined muffin tin cups.
Divide the remaining 1/3 of the batter into thirds again. Add yellow food coloring to one portion, orange food coloring to another portion, and stir. Fill the remaining four lined muffin cups with a layer of yellow batter, followed by a layer of orange batter, and finally the remaining vanilla batter, to create a candy corn affect.
Bake 20-25 minutes and let cool completely
4 vanilla cupcakes
3.3 oz white chocolate pudding
1 cup milk
4 oz. PICS frozen whipped topping, thawed
8 PICS mini chocolate chips
Stir the pudding and milk together until it thickens. Fold in whipped topping. Put aside enough to frost the top of the four vanilla cupcakes. Place the rest of the mixture into a snap and seal lunch sized bag and clip the corner to create a piping tool.
Use an apple corer (or ??) to create a hollowed center in the cupcakes. Pipe the whipped topping into the center, then frost the cupcakes with the topping put aside. Pipe more whipped topping on top of the cupcakes, like a vanilla ice cream cone, to create ghosts. Add two mini chocolate chips as eyes.
4 green cupcakes
Green frosting
12 pieces black licorice twists
8 Large candy eyes
Using a star tipped tool, pipe the green frosting in dollops onto cupcakes, creating a bumpy texture.
Add two large candy eyes to each cupcake.
Cut each black licorice twist in half and then carefully score in the middle with a sharp knife so that the twist can be bent to create legs. Push legs into each cupcake.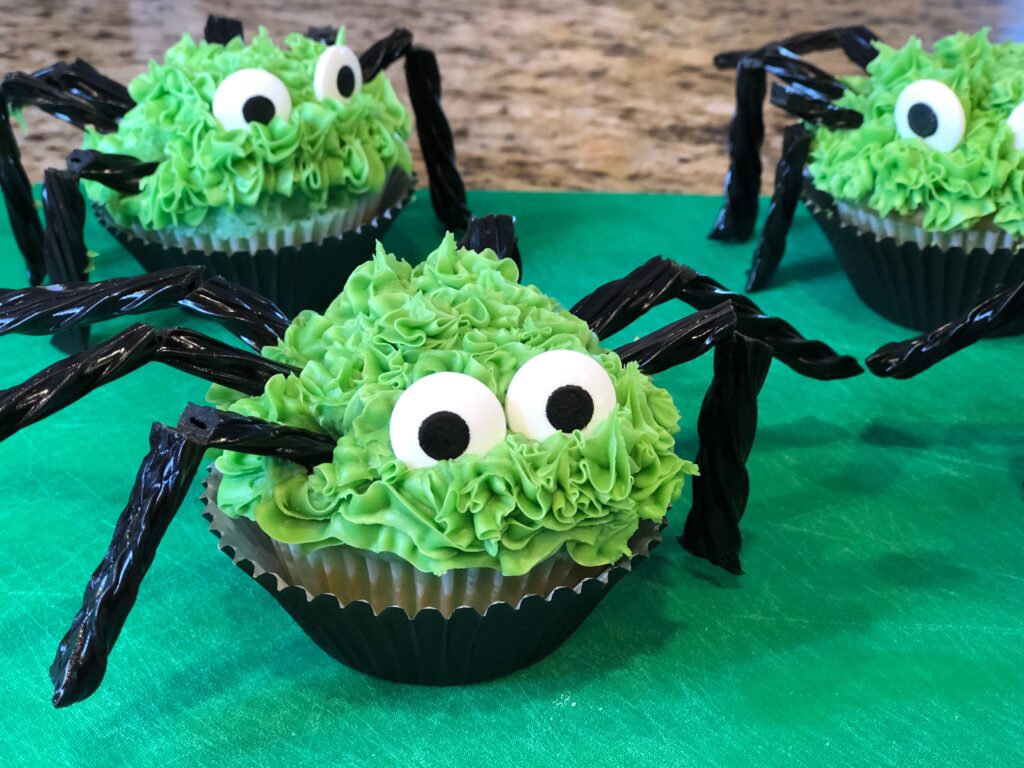 4 vanilla cupcakes
4 tablespoons PICS butter, room temperature
2 ½ cups PICS confectioner's sugar
1 ½ teaspoons PICS vanilla extract
3 tablespoons PICS milk
8 large candy eyes
Candy corn
Using an electric mixer, whip butter, confectioner's sugar, vanilla extract and milk in a bowl.
Frost cupcakes, add two large candy eyes, and place candy corns on top, creating a  spiked affect.
More on Making These Cupcakes
Swap the Oil:  Use 4 oz. of PICS unsweetened applesauce.
Eliminate the Eggs:  Swap out the eggs with ¼ cup of PICS plain Greek yogurt.
Gluten and Dairy Free Options:  Price Chopper and Market 32 have a variety of alternative cake mix options located in either the baking or allergen friendly aisles.
Make a Whole Dozen:  To make a complete dozen of one of these variations, simply triple the directions for the selected cupcake.
BOO! Did Halloween sneak up on you too? Halloween has always been one of our favorite holidays. Costumes, candy, jack-o-lanterns, what's not to love? Growing up trick-or-treating was always a blast, but don't worry, if you're too old for trick-or-treating there's still plenty of ways to have fun on Halloween.
A scary movie marathon is an easy and fun way to get the spook factor in. With all of the streaming services available these days, the options are a plenty. Check out classic scares like The Shining, Scream, or Nightmare on Elm Street. Or more family-friendly options like Halloweentown or Hocus Pocus. Gather your friends, grab some PICS Popcorn and settle in for some frights.
Another fun way to get in the spirit of Halloween is through decorations. Whether you're having a pumpkin carving contest with friends, or simply looking to make your porch more festive, we have all the pumpkins and gourds needed to do so.
At Price Chopper & Market 32 we love Halloween as much as you do! That's why we provide all the candy, pumpkins, and sweet treats you need to have a spooky great holiday. For all things Halloween stop by your local store or visit our online halloween hub!
Happy Halloween!