Can you believe it is November already? The end of the year brings all-things holidays, joy, love, and baking of course! Cream cheese is a staple in many United States households, but this time of year many will choose to bake with cream cheese. Whether you are making cheesecakes, cakes, brownies, or muffins, cream cheese adds a rich and creamy dimension that elevates your creations. At Price Chopper and Market 32, not only do we have a variety of cream cheeses, but we also have some incredible recipes on our website. Let's explore some favorites!
Four Food Strategies for a Game Day Win
When hosting a Super Bowl party there is a ton to consider. Providing food and drinks for guests, making sure the house is tidy, putting together an ample and comfortable viewing setup, and more go into preparing for the big party. It can be overwhelming and that's why we are here to help. We've taken four food strategies from our playbook for easier shopping and preparation for the big game!  
1st Down: Catering 
Our catering services put you way ahead of the game. Offering a variety of foods that will delight even the toughest of critics.  From 6-inch subs and spicy meatballs; all the way to gourmet chocolate dipped cookies and banana cream pie, we have everything you need to make your party super! Simply set the date and time you would like to pick up and we will have it ready for you to take home. Your guests will be wowed with a professional food experience! Place an order for game day here: http://bit.ly/2NPL07E.
2nd Down: Recipes 
Take a look at our abundant recipes page for all the inspiration you need. Our wide variety of choices include something that will please everyone at your party! Simply filter through the categories to figure out what you're looking for. Not sure what you want to cook? No problem! You can browse with ease. Search through mouthwatering game day ready recipes like baked buffalo cheese sticks, and when you find that winning recipe you can add all of those ingredients directly into your virtual shopping cart. From there, you can take advantage of our pick-up or delivery options. The recipes on our website are a great way to try something new with the assurance that it will be a flavorful bite to eat. 
3rd Down: Pick-up 
We understand how important your famous guacamole dip is to the success of your party, even when time is running low. Save time by submitting a grocery pick-up order on our website. Choose a time and location for pick-up, pay online, and park in one of our marked grocery pick-up parking spaces at your selected time. Once you submit your order, our in-store shopper navigates the aisles grabbing exactly what you need to make that tasty dish. Shoppers are trained to handpick the highest quality and freshest groceries to ensure your satisfaction. Learn more about grocery pick-up: http://bit.ly/38vG4wv.
4th Down: Delivery 
Scrambling late in crunch time hoping for a Hail Mary play? We've been there. That's why we will deliver the food you need for the game! Hop onto our website and select the groceries that you need for the evening. Proceed to checkout, put in your address and what time you want the grocery items delivered. We will bring them right to your doorstep while you can relax and finish your last-minute cleaning. Learn more about grocery delivery: http://bit.ly/2Rm04MF
These four strategies are here to help remove some of the stress that naturally comes with hosting friends and family. Regardless of the level of trouble you are currently in, we have a reliable, simple and smooth solution to bring you to a game day win. For more gameday ideas check out our Ultimate Big Game Savings or our Ultimate Big Game Youtube Playlist.
Happy hosting!
This upcoming Sunday, enjoy some of the best party-ready recipes out there! Beer is always a fan favorite, no matter what team you're rooting for!  In addition to the familiar brand name beers, craft beers have become increasingly popular, and are certainly delicious! Here are some tips to match with the food being served at your party.
Principles of Matching Beer with Food
Strongly-flavored foods demand assertive beers. With beer, flavor intensity involves a variety of qualities such as alcoholic strength, malt character, hop bitterness, sweetness, richness and roast flavors.
Combinations often work best when food and beverage share some common flavor or aroma elements. The nutty flavor of English-style brown ale and a handmade cheddar cheese are always a go-to combination!
Consider sweetness, bitterness, carbonation, heat (spice) and richness. Specific characteristics of food and beer interact with each other in predictable ways. Taking advantage of these interactions ensures that the food and beer will balance each other, creating a desire for a taste of the other.
Serving Suggestions and Beer Pairings
Chicken Wings:  Wings come in many flavors and styles.

Traditional Hot Wings are spicy and hot.  An American Pale Ale or an IPA (India Pale Ale) will work nicely to cut through the spicy heat.  Try  Sierra Nevada Pale Ale for a great taste!

Pizza:  Classic for all parties, especially when there is a big game involved!

American Amber Lager with pizza, go with a Brooklyn Lager.
American Amber Ale….try Long Trail Ale or rapidly growing in popularity, Adirondack Bear Naked Ale.
Chili:  Perfect for warming up fans during the big game.  Chili tends to be a football recipe staple and for good reason – it's quick to make, a safe bet when you're having a crowd over and you can drink great beer right alongside.  Because Chili offers such an array of flavors (beef, chicken/turkey or pork, beans, and spices), almost any beer will pair well with it.

For Stout, try a local favorite such as Brown's Oatmeal Stout.
For an Abbey Ale it's a no-brainer.  Check out an Ommegang Abbey Ale brewed in nearby Cooperstown, NY
Price Chopper and Market 32 have everything you need to satisfy all your hungry fans! Gear up for the big game with savings across the store on pizza, ribs, snacks, adult beverages and more! Snap up these deals and view our weekly flyer for more tasty savings!
View Weekly Flyer
2 Corner to Corner Cheese Pizzas & 2 Lbs. of Wings, just $22.99!

Price good thru Sunday 2/5

Lloyd's Babyback Ribs, just $10.99 w/ card

On sale thru Saturday 2/4

Heinz Easy Squeeze Ketchup, just 2 for $5 w/ card

On sale thru Saturday 2/4

Lay's Family Size Chips, just $1.99 ea. when you buy 3 or more w/ card

On sale thru Saturday 2/4

Tyson Any'tizers, Buy One Get One FREE w/ card

On sale thru Saturday 2/4

Your favorite sodas & adult beverages are on sale too!
Written by Maureen Murphy & Sarah Palmer
Hosting a cocktail party!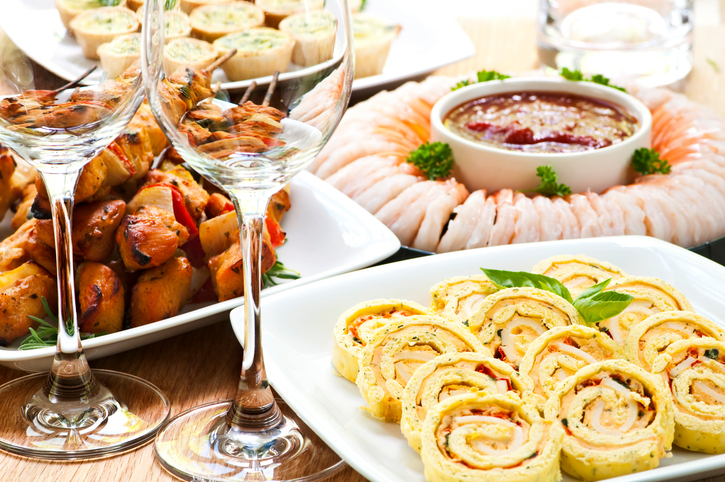 With New Year's Eve approaching this weekend, you may be hosting your final celebration of 2016!  We have some great tips for hosting a simple cocktail party! A cocktail party is a convenient way to entertain guests ranging from neighbors to business associates. The duration of a cocktail party is usually 2-3 hours, and foods usually consist of simple hors d'oeuvres and other finger foods, allowing guests to graze as they mingle.
Offer a varied menu making sure to include seafood, meat selections, finger food, canapés, hot and cold dishes
Plan on 8 (if being passed) and 10 (if on a buffet) hors d'oeuvres per person
When serving cheeses:

Choose a simple cracker without excess salt or flavors to enhance the flavor of the cheeses(s)
Choose crusty breads for mild cheeses or a heavy fruit or nut bread with an aged or more complex selection when serving bread
Serve cheese with your favorite fresh fruit:

Grapes can be served with almost any cheese
Pears go great with blue cheese, gorgonzola or aged Gouda.
Fresh berries are perfect when eaten with a soft ripened cheese such as brie or camembert
Fresh or dried figs are particularly nice with Spanish Manchego or Reggiano Parmesan

Use hollowed out peppers as serving containers for dips
Stock the bar with an assortment of glass styles to cover the type of drinks you plan to serve
Provide wine charms or even different colored ribbons for wine, champagne and martini glasses to help guests keep track of their glasses
Have plenty of mixers available – juices (orange, cranberry, grapefruit and tomato), soda, tonic, ginger ale, cola, and Tabasco, lemons, limes, horseradish, and Worcestershire sauce
Let us help you prepare for your cocktail party with our wide assortment of party platters! We offer everything from finger sandwich trays to fresh seafood & vegetable platters. Call us at 1-800-666-7667, option 4, Monday –Friday, 8:30 am – 7:00 pm and Saturday and Sunday, 10:00 am – 4:00 pm, or 
click here
to order online. Looking for recipe ideas? Be sure to check out our Pinterest board! https://www.pinterest.com/pricechopper/beer-wine-food-pairings/
Graduation season is here and we couldn't think of any better way to congratulate the graduates than with cake!  Tell us about the grad in your family and you could win a custom cake from our bakery department and $100 Price Chopper gift card to throw your graduation party!
Leave your comment below and on our
Facebook page
by Sunday, June 9th to be entered.  One winner will be randomly selected to win a gradation cake from their Price Chopper bakery and $100 to help you shop for party essentials!  Read official rules
here
. Want to win a FREE Halloween party for your kids?  Tell us about the best Halloween costume either you or your kids ever wore! Halloween is one of the most creative holidays of the year!  We're getting into the Halloween spirit here at Price Chopper
and we want to help you do the same!  Tell us about the BEST Halloween costume either you or your kids ever wore and one lucky fan will win a FREE kids Halloween party! Comment below and on our
Facebook page
to be entered to win a ½ gallon of apple cider, a pumpkin-decorated message cookie, a pumpkin pull-apart cupcake cake, a single layer pumpkin cake and plates, cups and napkins!
Check out our "Fall in Love with Fall" board on
Pinterest
for some excellent Fall decorating and baking ideas!  Also, don't forget to stop into your local Price Chopper to check out all of our tasty fall treats in our Bakery!  We have everything you need to make your Fall celebrations complete!  All entries must be received by 5:00 pm on Friday, October 19
th
2012. Limit one entry per person. Don't forget to comment below AND on our Facebook page for a chance to win.  Read the official rules
here

.
  Good luck!