Written by Jane Golub, Director In-Store Marketing Programs February 19, 2017
HEX PERFORMANCE ADVANCED LAUNDRY DETERGENT
2017 is the year you reach those big health goals.  Hex is here to make sure your laundry room is part of that! Wait, laundry room?  Yup, you read it right!  Your bright new workout clothes are going to become sweaty piles of laundry and that jug of blue detergent isn't going to get them clean.  Why not?  Because those detergents were built for yesterday's fabrics.
What's different about this new laundry detergent?
Hex started with tough-to-clean synthetic fabrics (like your workout clothes).  They found that since they clean those better than the legacy brands, everything else is easy! Learn more at 
hexperformance.com/transparency.
With HEX, one detergent works for everything and you get a true clean on the first wash. They know you have something that stinks, so pick up HEX Performance today in the Laundry aisle!  Available in Single Dose or Liquid and Free + Clear or Fresh Clean Scent. JNG/ Written by Jane Golub Director In-Store Marketing Programs July 17, 2016
FULL CIRCLE ORGANIC SALADS
Addicted to organic food?  Full Circle Organic Salads have what you crave.  These organic salads are farmed organically and are eco-friendly.  What's so super about organic?  Everything!
Full Circle Organic Salads provide great health benefits with each serving while promoting a healthy and balanced ecosystem. When it comes to giving your body all the nutrients it needs, Full Circle Organic Salads are a tasty choice and provide the energy you need to power through your busy day. All Full Circle Organic Salads are harvested at the peak of freshness, triple washed and ready to serve. Look for Full Circle Organic Salads in the Produce section with the packaged salads.  Enjoy!! Written by Jane Golub Director In-Store Marketing Programs July 17, 2016
EAT SMART SALADS
Introducing two new Eat Smart Salads:
Sweet Kale Salad – The Eat Smart Sweet Kale Gourmet Salad Kit is a unique blend of seven super-foods that include kale, green cabbage, broccoli, Brussels sprouts, chicory, roasted pumpkin seeds and dried cranberries, complete with a delicious poppy seed dressing.  Eating healthy never tasted so sweet!
Wild Greens and Quinoa Salad – The Eat Smart Wild Greens and Quinoa Gourmet Salad Kit with avocado dressing features seven super-foods containing kale, beet greens, julienne broccoli, carrots, red cabbage, quinoa and almonds and makes a hearty, healthy and gluten-free salad.  It has never been easier to eat healthy!
Look for Eat Smart Salads in the Produce Department.
TYSON CRAFTED CREATIONS
Tyson Crafted Creations products deliver pre-seasoned, pre-marinated meats that shine with flavor and versatility.  Sure to please any palate, it all starts with an exciting variety of modern flavors, meticulously tailored for quality cuts of beef, pork and chicken.
Crafted Creations meats are decidedly different than other seasoned and marinated products, not only in quality but in flavor.  Enjoy the smoky taste of mesquite flat iron beef, the citrus notes of orange peel chicken strips or the authentic Tex-Mex flavor of seasoned pork for fajitas: there's always something to keep you coming back. Created with a global breadth of inspiration, the options for delicious mealtime experiences with Crafted Creations products are endless – from the taste of a local taqueria to an Asian fusion restaurant to a backyard pig pickin' Look for Tyson Crafted Creations items in the Fresh Meat Case and visit
www.craftedcreations.com
for regularly updated recipes! Written by Jane Golub Director In-Store Marketing Programs July 3, 2016
SOFTSOAP BRAND LUMINOUS OILS
Softsoap invites you to empower your shower with the new Luminous Oils Body Washes. Achieve soft and radiant skin with a fragrant-rich luxurious body wash with no extra steps required.
Available in two varieties: Avocado Oil & Iris and Macadamia Oil & Peony.  Both scents have a floral fragrance and the added oils will make your skin silky soft. Softsoap won't irritate your skin and will give your body a nice clean and refreshing feeling. Easy opening flip top – lathering up has never been easier. The new Softsoap Luminous Oils Body Washes offer you endless possibility to maximize your time in the shower. Look for Softsoap Brand Luminous Oils in the Soap aisle. Written by Jane Golub Director In-Store Marketing Programs July 3, 2016
TONNINO GOURMET TUNA
The finest cuts of yellowfin tuna are dipped in olive oil and hand-packed in signature glass jars.
Tonnino Gourmet Tuna is available in four innovative, different and amazing flavors that will help you create the most mouthwatering recipes in your kitchen – or, why not, just eat it my itself!!
Tonnino Tuna Fillets in Olive Oil
Tonnino Tuna Fillets in Spring Water
Tonnino Tuna Fillets with Lemon and Pepper in Olive Oil
Tonnino Tuna Fillets with Jalapeno Olive Oil
Besides being a convenient item for your food cupboard, Tonnino has low-mercury levels.  It is Non-GMI certified, gluten-free, sea salted and responsibly caught.  This amazing product will be tempting your taste buds from the first glance onto the next time you delight yourself with it. Look for Tonnino Gourmet Tuna in the Canned Fish aisle. Written by Jane Golub Director In-Store Marketing Programs June 26, 2016
MYLANTA – Three New Flavors
Try new Mylanta Liquid Antacid/Antigas
New look, new easy-to-use packaging
New great-tasting smooth flavors
Maximum strength, multi-symptom relief

Classic (original Mint) Flavor
Tonight soothing Honey-Chamomile Flavor

Each unit includes measured dosage cup
Try new Mylanta Gas Antigas Mini-Tablets
Fast and discreet relief whenever and wherever symptoms occur
Chewable, great tasting, coated mini-tablet in multiple flavors
Plastic re-closable pocket-pack container
Great Mint flavor – 50 Count
Find Mylanta in the Antacid/Laxative aisle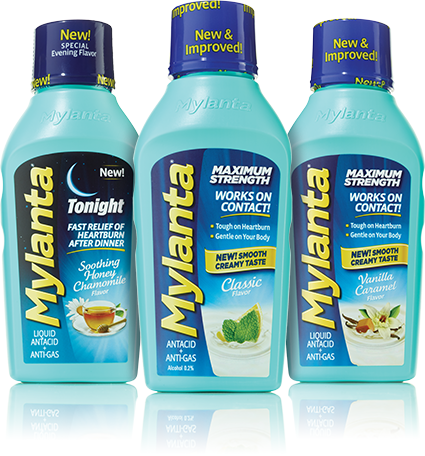 Written by Jane Golub Director In-Store Marketing Programs June 26, 2016
GARNIER WHOLE BLENDS
Discover the wholesome goodness of Garnier's newest haircare collection, Garnier Whole Blends, an authentic, loving brand that's centered around tradition, family values and community. Whole Blends offers six unique, gentle, paraben-free, effective formulas with carefully-selected ingredients that nourish deeply, hydrate and repair for naturally beautiful hair that's incredibly smooth, full of shine and flows effortlessly. The Collections:
Honey Treasures – The creamy lush formula strengthens hair and helps prevent split ends and breakage.
Coconut Oil & Cocoa Butter – The moisturizing yet refreshing lightweight formula quenches and softens dehydrated hair.
Coconut Water & Vanilla Milk – The velvety formula nourishes hair and tames frizz and flyaways.
Green Apple – The invigorating formula revitalizes hair and boosts shine.
Avocado & Shea Butter – The creamy moisturizing formula rejuvenates dried out hair.
Cranberry & Argan Oil – the color-protecting formula protects color & enhances radiance.
Garnier Whole Blends, wholesome loving care blended for naturally beautiful hair, now available in the Beauty aisle.
Written by Jane Golub Director In-Store Marketing Programs June 19, 2016
QUAKER BREAKFAST FLATS
Full of delicious ingredients to help fill you up and help satisfy even the busiest of mornings – introducing NEW Quaker Breakfast Flats.
At the heart of their newest creation, you'll find delicious ingredients like crunchy almonds, tart cranberries, sweet bananas, golden raisins and whole grain oats. Open a box of Quaker Breakfast Flats and discover a treasure trove of taste with three delicious flats in each serving! With real fruit, crunchy nuts and 18g of whole grains – all at less than 200 calories – Quaker Breakfast Flats are a great snack to help satisfy your morning hunger, wherever the day takes you. Look for NEW Quaker Breakfast Flats in the Granola Bars aisle. Written by Jane Golub Director In-Store Marketing Programs June 19, 2016
WISHBONE EXTRA VIRGIN OLIVE OIL and RISTORANTE SALAD DRESSINGS
Looking to elevate your food from good to great?  Wish Granted! Wishbone, America's number one Italian dressing, brings you the new Wishbone EVOO and Ristorante Italiano Salad Dressings. Nine delicious flavors such as Garlic Basil, Lemon Herb, Roasted Red Pepper, Sundried Tomato, Caesar Vinaigrette, Ristorante Italiano Signature Italian, Creamy Peppercorn, Roasted Garlic  and Garlic Parmesan!  Crafted with the best ingredients – artisan cheeses, extra virgin oil and a signature blend of herbs and spices, you will see and taste the difference.
Look for all of these great new Wishbone Extra Virgin Olive Oil and Ristorante Salad Dressings right next to all of your Wishbone favorites in the Salad Dressing aisle.