Written by Jane Golub Director In-Store Marketing Programs November 4, 2018
Crest Gum Care Mouthwash
A healthy mouth starts with healthy gums.  This new product is formulated to neutralize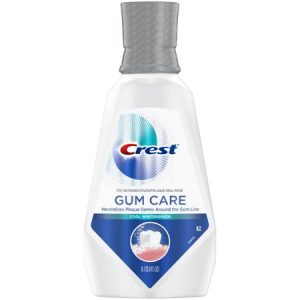 harmful plaque bacteria even below the gum line to help reverse early gum disease and the issues that come with it. A minty alcohol-free freshness that neutralizes harmful plaque bacteria and reduces bleeding gums.  For healthier gums, use the Fresh Gum collection to neutralize hidden plaque bacteria and help reserve early gum damage. Look for Crest Gum Care Mouthwash in the Dental Care aisle. Written by Jane Golub Director In-Store Marketing Programs March 18, 2018 Experience years of ground breaking research come to life in your daily toothpaste.  Detoxify around the gum line for clinically proven healthier gums, plus a deep clean.   Introducing new Gum Detoxify from Crest.
There are millions of harmful plaque bacteria that can lurk around the gum line causing gingivitis.  Crest Gum Detoxify Deep Clean Toothpaste has an activated foam formula that penetrates hard to reach places to neutralize harmful plaque bacteria even around the gum line, for clinically proven healthier gums. It is also formulated to cool gums during and after brushing for a refreshing clean.  If you're not taking care of your gums, you're not really taking care of your mouth. Look for Crest Gum Detoxify in the Oral Care aisle. Written by Jane Golub Director In-Store Marketing Programs August 20, 2017
CREST 3D WHITE GLAMOROUS WHITE TOOTHPASTE
Reveal a whiter, brighter smile with Crest 3D White Glamorous White Toothpaste.  Its unique foam-action formula surrounds teeth with teeth whitening agents, so every brushing gives you that all-around clean feeling.  Proven to remove up to 95% of surface stains in just 3 days, 3D White Luxe Glamorous White Toothpaste is your ticket to a head-turning white smile. With regular brushing, Crest 3D White Luxe Glamorous White Toothpaste: – Removes up to 95% of surface stains in 3 days – Brightens teeth in just 1 day – Uses the same enamel-safe teeth whitening agent as dentists – Removes surface stains in hard to reach places with gentle foaming action – Fights tartar & cavities with fluoride Look for Crest 3D White Glamorous White Toothpaste in the Oral Care aisle.
Written by Jane N. Golub
Director In-Store Marketing Programs
CREST PRO HEALTH
     For more than 50 years, Crest has been an innovator in dental health care, creating trusted, effective products that help families like your achieve beautiful smiles for life by providing clinical protection for a healthy mouth. Backed by 20 years of scientific research and 12 international patents, Crest Pro-Health is truly one toothpaste that does it all.  Its seven oral health benefits include fighting cavities, plaque and gingivitis; reducing sensitivity and tartar; whitening teeth and freshening breath.  Get all these benefits while fighting bad breath for hours!  When used as a daily regimen, Crest Pro-Health Toothpaste, Pro-Health Rinse, Oral-B Toothbrushes and Oral-B Floss help keep plaque from coming back. Try the newest member of the Pro-Health family, Crest Pro-Health Healthy Fresh, the only Pro-Health toothpaste with both a refreshing peppermint flavor and a smoother formula. Look for Crest Pro-Health in the Oral Care aisle!
OLAY FRESH EFFECTS
     With Olay Fresh effects, you can start fresh and finish sparkling!  When every day is a new adventure, you need skin care that can keep up with you.  For sparkling fresh skin, mix, match and layer to create customized skin care that's as expressive and vibrant as you are. Models get airbrushed; we get Olay Fresh Effects BB Cream.  Also known as beauty balm, this is one of Asia's hottest trends.  The multi-tasking formula provides 6 perfecting benefits: Refreshes, Brightens, Evens Tone, Hydrates, Smoothes and Protects.  It's an all-in-one solution for instantly brighter-looking, smoother-feeling, more even skin tones. The Olay Fresh Effects VA-VA-VIVID Powered Contour Cleansing System deep cleans in and around the T-Zone, hair line and nose for a 400% better clean vs. basic cleansing.  The super-soft bristles gently massage your skin for a micro-facial experience.  Liberate your skin from dirt, oil and make-up; for a healthy-looking glow. Look for Olay Fresh Effects in the Skin Care aisle!