Written by Jane Golub Director In-Store Marketing Programs June 26, 2016
MYLANTA – Three New Flavors
Try new Mylanta Liquid Antacid/Antigas
New look, new easy-to-use packaging
New great-tasting smooth flavors
Maximum strength, multi-symptom relief

Classic (original Mint) Flavor
Tonight soothing Honey-Chamomile Flavor

Each unit includes measured dosage cup
Try new Mylanta Gas Antigas Mini-Tablets
Fast and discreet relief whenever and wherever symptoms occur
Chewable, great tasting, coated mini-tablet in multiple flavors
Plastic re-closable pocket-pack container
Great Mint flavor – 50 Count
Find Mylanta in the Antacid/Laxative aisle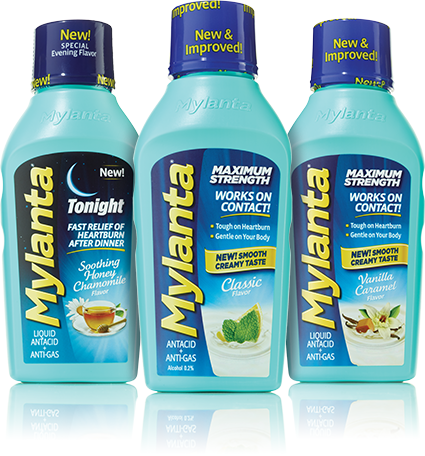 Written by Jane Golub Director In-Store Marketing Programs June 26, 2016
GARNIER WHOLE BLENDS
Discover the wholesome goodness of Garnier's newest haircare collection, Garnier Whole Blends, an authentic, loving brand that's centered around tradition, family values and community. Whole Blends offers six unique, gentle, paraben-free, effective formulas with carefully-selected ingredients that nourish deeply, hydrate and repair for naturally beautiful hair that's incredibly smooth, full of shine and flows effortlessly. The Collections:
Honey Treasures – The creamy lush formula strengthens hair and helps prevent split ends and breakage.
Coconut Oil & Cocoa Butter – The moisturizing yet refreshing lightweight formula quenches and softens dehydrated hair.
Coconut Water & Vanilla Milk – The velvety formula nourishes hair and tames frizz and flyaways.
Green Apple – The invigorating formula revitalizes hair and boosts shine.
Avocado & Shea Butter – The creamy moisturizing formula rejuvenates dried out hair.
Cranberry & Argan Oil – the color-protecting formula protects color & enhances radiance.
Garnier Whole Blends, wholesome loving care blended for naturally beautiful hair, now available in the Beauty aisle.
Ellie Wilson, MS, RDN  Senior Nutritionist
We arrive at the Chobani plant, and find trucks busily rolling in and out, the sun glancing off shining clean silver milk silos. The first thing I learned – the facility was originally a cheese plant, built in 1920. Sustainably re-purposed for Greek yogurt production, the current plant has grown to three different sections, restoring and expanding jobs in this small upstate New York community. Our tour guides are Darrell Williams, Senior Quality Control Manager, and Dr. Robert Post, Senior Director, Nutrition and Regulatory Affairs. The name "Chobani" means shepherd in Greek. The company values are written, literally, on the wall, and evident in every creamy, yummy mouthful of Greek yogurt. We suit up in sanitary and safety gear (my favorite look, hair nets and hard hats), and follow Darrell and Robert as they share their work – crafting Greek yogurt is a relatively simple process that yields a wholesome food, but the scale of the operation separates the company from many others. They also educate us all with great energy and passion – sharing insight into how each activity and method serves the consumer and ensures a premium, delicious product. That local milk from Terry Ives's farm enters the plant in a secure area, where it is tested again to be sure there has been no change in quality. Once final testing is done, the milk is transferred into silos, which hold about 500,000 pounds each. Like the milk trucks, the silos are tightly temperature controlled, and routinely sanitized. The operation is also inspected by multiple agencies to ensure food safety comes first.
We tour plant process from beginning to end – everything is shining clean, every area focused on a specific task. Milk moves from the silo into processing, where it is separated (cream and milk), pasteurized, homogenized and then moved into yogurt making. Once it is brought to a specific temperature, the yogurt culture is added- five live active cultures, and three strains of probiotics. It takes 3 cups of milk to make 1 cup of Greek yogurt –  as the cultures do their work, the proteins are concentrated and the water and whey start to separate. Sustainability at work again, the whey is returned to farmers for agricultural and feeding purposes. Nothing goes to waste – land, water and community are carefully considered.
Chobani also works hard to ensure their fruit ingredients are premium – the typical combination of a fruit jam in a tangy base is part of what has grown Greek yogurt popularity – Americans want more wholesome foods with a lot of flavor, and Chobani delivers on both counts. Plain Greek yogurt is tangy and lends itself to many savory recipes, as an ingredient in sauces, casseroles and soups. Check out the savory side of Greek yogurt with these delicious tips and recipes! Simple substitution – plain Greek yogurt is a great substitute for sour cream in dips, sauces and baked good recipes.
http://pricechopper.com/recipes/11413/Greek-Garden-Pasta-Salad
http://pricechopper.com/recipes/8357/Toasted-Sesame-Seed-Crusted-Lamb-Meatballs-with-Sweet-Harissa-Yogurt-Sauce
http://pricechopper.com/recipes/8500/Lamb-Meatballs-with-Mediterranean-Dips
http://tobyamidornutrition.com/recipes/5306/roasted
  – Salmon with dill-yogurt sauce and creamed spinach  – with permission, author of the Greek Yogurt Kitchen
http://www.chobani.com/culture/recipes/coconut-shrimp/
http://www.chobani.com/culture/recipes/creamy-basil-dressing/
http://www.chobani.com/culture/recipes/mango-lentil-soup/